Is this Hospital Small Cap the Remedy for Growth, Value and Income Investors?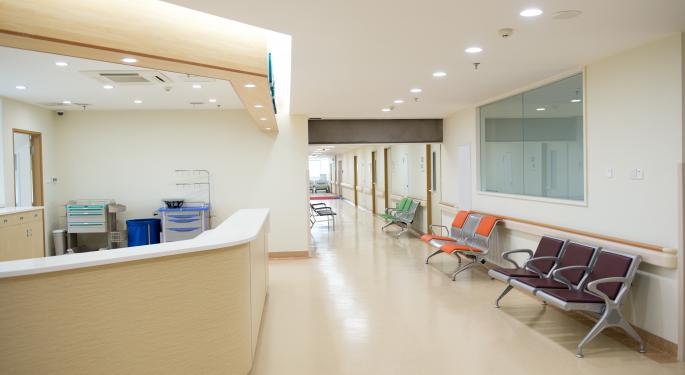 As with just about everything in life, investing goals can be divided into three: income, growth, and value. When all three come from a single stock, it should have a bullish future. Such should be the case for Select Medical (NYSE: SEM), one of the largest operators of specialty hospitals and outpatient rehabilitation clinics in the United States.
In a sector dominated by giants such as HCA (NYSE: HCA) and Health Management Associates (NYSE: HMA), Select Medical is a small cap with a big dividend.
The average dividend yield for a member of the S&P's 500 Index is around 1.9 percent. For Select Medical, it is 4.70 percent. That should please even the most demanding of income investors. Health Management Associates does not pay a dividend. Neither does HCA.
Growth investors should be just as pleased with the financials of Select Medical.
Related: 3 Reasons to Buy Suncor Energy
The price-to-earnings-growth ratio is considered to be one of the most important by legendary investor Peter Lynch. For a fairly valued entity, it should be 1. The lower the price-to-earnings-growth ratio the better. For Select Medical, it is 0.64. Earnings-per-share are expected to increase by 15 percent, based on estimates from the analyst community.
The case for value investors is just as compelling.
The price-to-sales ratio for Select Medical is 0.39. That means that each dollar of sales is discounted more than 60 percent in the stock price. For HCA, it is 0.62. The price-to-sales ratio for Health Management Association is 0.59. That is the nature of small caps when it comes to the market efficiently pricing the shares.
For investors, there is nothing better.
Eventually, the market will fully price the shares. That should raise the stock price for Select Medical. Combined with the dividend yield, that will make for a healthy total return for all investors, no matter what the objective.
Posted-In: Long Ideas News Dividends Dividends Small Cap Analysis Small Cap Trading Ideas Best of Benzinga
View Comments and Join the Discussion!