3 Reasons Every Family Office Should Own Petrobras Brasileiro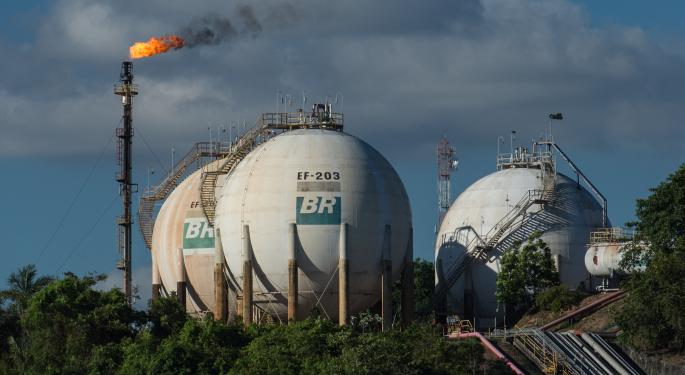 Petrobras Brasileiro (NYSE: PBR), the Brazilian oil giant, is off more than 15 percent in trading this week.
Wall Street hates uncertainty, and the company recently revised its pricing policy without providing any guidance for the future. As a result Credit Suisse downgraded the stock and others have dumped it.
That should be viewed as the opportunity to buy a major oil and natural gas firm at a significant discount by family offices looking for rewarding, long-term investments.
Family offices invest to preserve wealth, generate income, and beat the market for the future. Trading close to its year-low at $14, it is unlikely Petrobras Brasileiro will fall much more. The negative impact of the pricing policy has been factored into the stock price through this week's selling. The share price is now double-digits below its 20-day, 50-day, and 200-day moving averages.
In terms of investing for the future, in June 2008, Petrobras Brasileiro was trading at over $70 a share. Obviously, the Great Recession had an impact. But other oil giants such as Exxon Mobil (NYSE: XOM), Chevron (NYSE: CVX) and ConocoPhillips (NYSE: COP) have rebounded.
For the future, though, Petrobras Brasileiro is positioned better than Exxon Mobil, Chevron or ConocoPhillips.
See also: 3 Reasons to Avoid Debt in Investing
It is certainly more undervalued at the present. The price-to-sales ratio for Petrobras Brasileiro is 064. That means every dollar of sales is valued at about a one-third discount in the stock price. The same is true for assets, as the price-to-book ratio is 0.60.
For Exxon Mobil, by contrast, the price-to-book ratio is 2.48 and the price-to-sales ratio is 0.98. That means the stock price of Petrobras Brasileiro should rise more when the market fully values its sales and assets, like it does with other oil and natural gas companies.
The future is more bullish for Petrobras due to future energy needs increasing around the world. In its recent report, "World Energy Outlook," the International Energy Agency predicted world energy needs would increase greatly -- with Latin America becoming a major oil and natural gas exporter. 
Petrobras has a massive investment in offshore oil production that is being counted on to provide much of that oil and natural gas for the increasing global demand.
Much of Petrobras' present woes come from government ownership.
That is very easy to fix, however. Investors should look at the recent example of YPF SA (NYSE: YPF), the Argentine oil giant. Actions by the government of Argentina drove down the share price. Since then, the country has worked to make YPF SA, and Argentia, more attractive to investors. As a result, YPF SA is up more than 90 percent for 2013. Much of the economic health of Brazil rests on the performance of Petrobras, so more beneficial actions from the Government of Brazil should be expected.
As detailed in a previous Benzinga article, this sector is very appealing for meeting the investing goals of family offices. When actions result in share prices falling for major oil and gas firms like Petrobras Brasileiro, that is an opportunity for family offices to generate higher returns for the future through buying at the temporarily lower prices.
Posted-In: Long Ideas Dividends Emerging Markets Downgrades Commodities Markets Analyst Ratings Trading Ideas
View Comments and Join the Discussion!