When Will Asia Save Gold and Coal?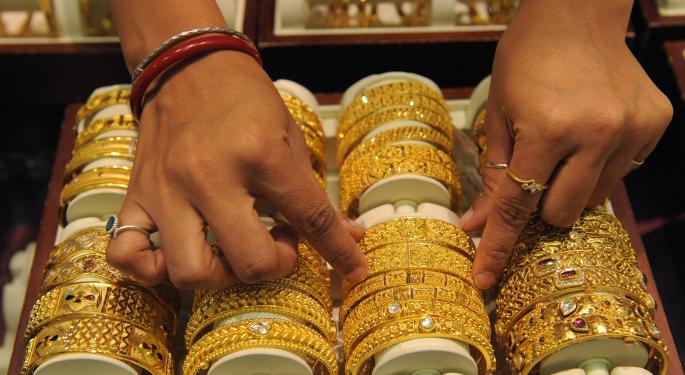 Economic policy from the United States has been devastating for the price of gold and coal.
As a result, the exchange traded funds for gold, SPDR Gold Shares (NYSE: GLD) and its coal-related counterpart, Market Vectors Coal (NYSE: KOL), are both down by more than 20 percent for 2013. Demand from Asia, the largest consumer of coal and gold, is needed to raise the share prices of Market Vectors Coal and SPDR Gold Shares.
The Obama Administration, meanwhile, has launched what has been called "The War on Coal." Its actions and policies have been directed against the use of coal. That is primarily due to coal being such a dirty fuel source.
Before the election of Obama in 2008, Market Vectors Coal was around $60 a share. Now it is trading around $20.
Gold has plunged in price, due to a Federal Reserve policy that initially had it soaring: quantitative easing. That program entails the Federal Reserve expanding its balance sheet to acquire trillions in Treasury securities and mortgage-backed bonds to keep interest rates low.
At first, gold rose in value as the U.S. dollar fell. But, as detailed in a recent article on Benzinga,  gold has collapsed.
Due to the sheer size of quantitative easing, the gold market cannot handle the massive inflows of capital. There are also reports on how the oil market is absorbing the influx of funds. Much of that has to do with the oil market being so much deeper and so much more liquid than that for the Yellow Metal.
Asia, by far, uses more gold and coal than any other region.
India is the world's largest buyer of gold. China consumes more coal than the rest of the world combined. That will not change anytime soon for either country. There might be a switch, as the Chinese central bank is buying gold with the Finance Minister of India is trying to dissuade such purchases in his country, with little success to date.
China recently announced a series of economic reforms that are very market driven. The main exchange traded fund for China, iShares China Large-Cap (NYSE: FXI), is up more than 10 percent for the last month of market action.
With China as the main economic engine of Asia, and the largest buyer of coal and possibly the biggest consumer of gold in the near future, the demand, and the share prices for SPDR Gold Shares and Market Vector Coal, could be rising soon.
Posted-In: Long Ideas Sector ETFs Emerging Markets Commodities Economics Federal Reserve Markets Trading Ideas
View Comments and Join the Discussion!