Taiwan Semiconductor: Growth Investors Should Take Note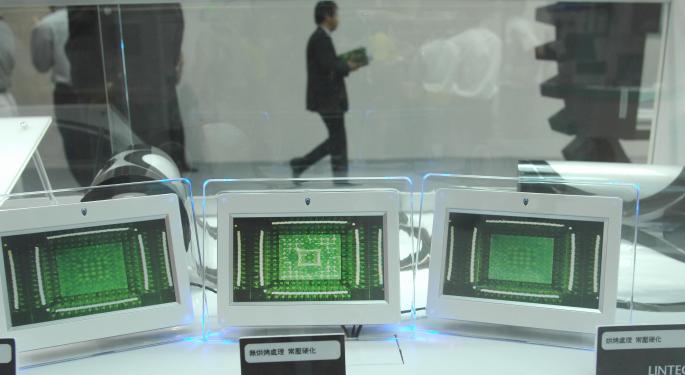 In a recent interview, legendary investor Carl Icahn said he was worried about a drop in the stock market -- as many companies were posting better results due to lower borrowing costs, rather than stronger earnings.
Consider, then, Taiwan Semiconductor (NYSE: TSM) -- which has sales and earnings-per-share growth of more than 20 percent on a quarterly basis. Even more compelling, the high tech giant has very little debt.
Taiwan Semiconductor operates in the same sector as Intel (NASDAQ: INTC) and Texas Instruments (NASDAQ: TXN), so there is plenty of competition. But there is much about Taiwan Semiconductor that is superior to Texas Instruments and Intel Corporation, although both are fine companies. These features should appeal to growth, value, and income investors.
For growth investors, sales and earnings-per-share are soaring for Taiwan Semiconductor.
This year, earnings-per-share growth has been around 15 percent -- and analysts project that growth to stay in the same range over the next five years. With a profit margin of over 30 percent and little debt, these earnings are unencumbered and can be used to fuel growth. By contrast, earnings-per-share growth was around 1.5 percent for Intel this year.
Value investors should like that the price-to-earnings growth ratio for Taiwan Semiconductor is under one. Peter Lynch, another legendary investors, considers this to be one of the most important metrics. When it is under one, the company is trading at a discount. That is not the case for Texas Instruments, as its price-to-earnings growth ratio is near 2.80.
The average dividend for a member of the Standard & Poor's 500 Index is about 1.9 percent.
Income investors should appreciate the 2.26 percent dividend of Taiwan Semiconductor. With the high profit margin and low debt, there is the cash flow to raise it. That will increase the total return for long term investors.
Taiwan Semiconductors has underperformed the market, up only 6.50 percent for the year.
Should there be a pullback, however, the high earnings and low debt of the company should be a buffer. With its strong dividend, shareholders will have the total return increased, no matter what happens with the market.
Now trading around $17.70 a share, the mean analyst target price for Taiwan Semiconductor over the next year of market action is $20.36.
Posted-In: Carl IcahnLong Ideas News Dividends Dividends Economics Tech Trading Ideas Best of Benzinga
View Comments and Join the Discussion!