Will Wal-Mart Pay for Your Retirement?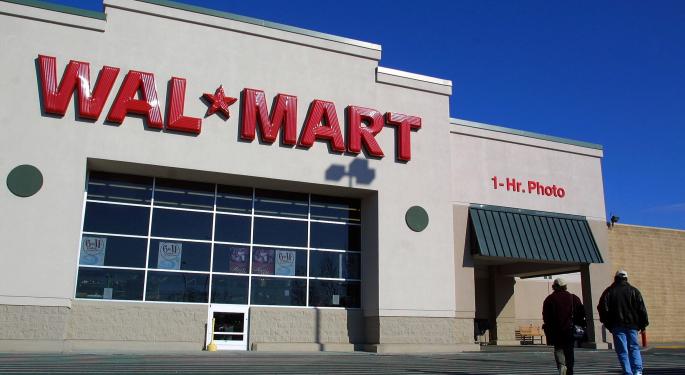 Wal-Mart (NYSE: WMT), the nation's largest retailer, reported its earnings that beat estimates by a penny. That was a bullish reversal, as previous quarterly earnings had fallen short of the expectations of the analyst community. This change in direction is another reason why Wal-Mart can help pay for your retirement.
Like Coca-Cola (NYSE: K) and McDonald's (NYSE: MCD), Wal-Mart has established itself as a global brand. Consumers know that wherever the Wal-Mart name is seen, that goods and services of an acceptable quality will be supplied. In "A Brief History of American Prosperity," French intellectual Guy Sorman considers entities with those features to be the "forces for stability" that were critical for the United States becoming an economic superpower.
Wal-Mart has certainly set the standard for being the global retail superpower.
With $400 billion in annual sales from more than 11,000 stores in 27 countries, Wal-Mart is not going to report any huge increases in revenues. But it does supply the constant growth that is ideal for financing an enjoyable retirement. Sales growth for Wal-Mart has been 4.50 percent over the last five years. For the same period, earnings-per-share growth has been 9.70 percent.
That performance is expected to continue. Over the next five years, earnings-per-share growth for Wal-Mart is projected to be 8.82 percent. Not great, but companies the size of Wal-Mart do not produce jaw dropping figures as it is in retail, not high tech.
The dividend yield of Wal-Mart does add significantly to the total return, though.
Like Coca-Cola and McDonald's, Wal-Mart is a "Dividend Aristocrat." To earn that title, a company must increase its dividend annually for at least 25 consecutive years. Coca-Cola and McDonald's are also Dividend Aristocrats.
Between its earnings-per-share growth and increasing dividend, Wal-Mart is an ideal stock to pay for retirement expenses.
Posted-In: Long Ideas News Dividends Price Target Technicals Retail Sales Economics Analyst Ratings Best of Benzinga
View Comments and Join the Discussion!