Invest like Buffett to Profit from Growth in Asia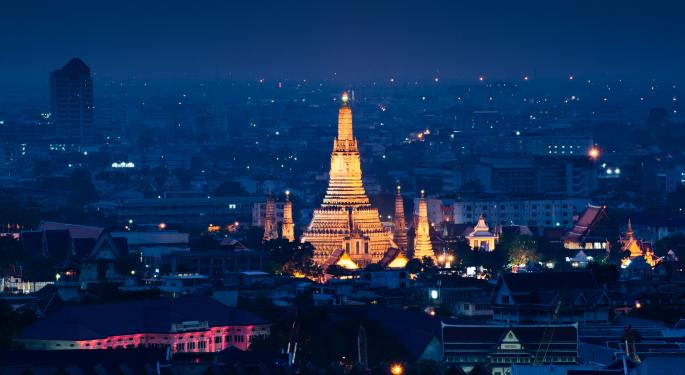 After it is disclosed that Warren Buffett has invested in a publicly traded company, the price of the shares always rise, creating what is known as the "Buffett Premium." That happened with Exxon Mobil (NYSE: XOM), up more than $2 and 2 percent today after it was released that "The Oracle of Omaha" had bought 40 million shares for a total by of over $3 billion.
The same happened when Buffett established major positions in ConocoPhillips (NYSE: COP) and Suncor Energy (NYSE: SU).
What is obvious in the recent purchases of Buffett is that he is investing growth in Asia.
Related: 3 Reasons Family Offices Should Invest in Gold
Exxon Mobil, Suncor Energy and ConocoPhillips will feed the growing appetite in Asia for oil and natural gas. Lubrizol provides the supplements for the machinery in the factories of China and others. Heinz supplies the condiments for the more affluent diets of Asians. Crops and other exports from the United States travel the rail lines of Burlington Northern Santa Fe to ports, destined for Asian markets.
For investors, there are still plenty of profitable buys to gain from economic growth in Asia.
In a previous article, it was detailed how the coal giant was a play on Asia, particularly the Indian and Chinese markets. While the use of oil and natural gas will rise, so will the consumption of coal in Asia. While it has been a good year for Suncor Energy, ConocoPhillips, and Exxon Mobil, Peabody Energy is off by more than 20 percent.
For the same sector, the exchange traded fund for coal, Market Vectors Coal (NYSE: KOL), is also down for the year and should bounce back when demand rises again in Asia.
Caterpillar (NYSE: CAT) is the world's largest equipment maker.
The China market is huge for Caterpillar. As Chinese economic growth is still recovering from The Great Recession, Caterpillar is down for the last week, month and six months of market action. For 2013, Caterpillar has fallen by nearly 5 percent as the Standard & Poor's Index has soared by more than 25 percent. A large part of Caterpillar's business is making machinery for the coal industry, so, like Peabody Energy, it is suffering.
Peabody Energy, Market Vectors Coal and Caterpillar should all rebound when Asian demand increases. Buffett, considered by many to be the best investor ever, is buying for that eventuality. But there are other ways to profit from growth in Asia without having to pay the "Buffett Premium."
Posted-In: Warren BuffettLong Ideas Dividends Emerging Markets Economics Markets Trading Ideas Best of Benzinga
View Comments and Join the Discussion!