Janet Yellen Remarks Highlight the Enduring Appeal of Dividends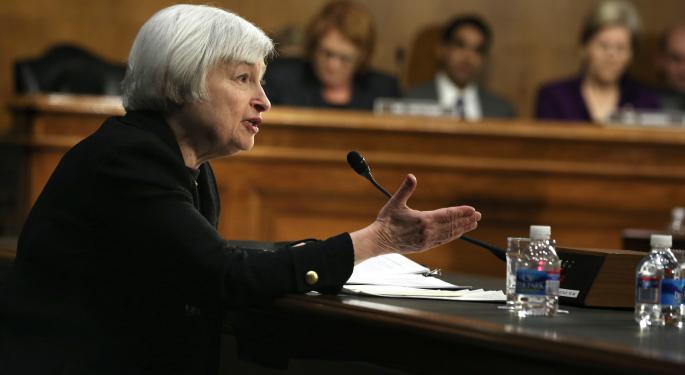 In her remarks last week before the Senate Banking Committee Dr. Janet Yellen, nominated to replace Federal Reserve Chair Ben Bernanke, endorsed the continuation of the Quantitative Easing III program.
Designed to keep interest rates low, Quantitative Easing III entails the Federal Reserve acquiring $85 billion monthly in Treasury securities and mortgage-backed bonds through the expansion of its balance sheet. The continuation of that effort by the Federal Reserve under Yellen will make dividend paying stocks even more appealing, whether interest rates stay down or inevitably rise.
Should interest rates continue to remain low, stocks that pay high dividends such as McDonald's (NYSE: MCD), Wal-Mart (NYSE: WMT), Coca-Cola (NYSE: KO) and Consolidated Edison (NYSE: ED) will remain attractive to yield-seeking investors. Bond yields are very low, and likely to stay that way with Yellen at the helm of the Federal Reserve.
But McDonald's, Wal-Mart, Coca-Cola, and Consolidated Edison all have above-average dividends. As each is a "Dividend Aristocrat," a title earned from increasing the dividend annually for 25 consecutive years, the yield will grow into the future.
Eventually interest rates will have to increase, though: the market will force that, as quantitative easing cannot continue forever.
In a recent speech in Australia, Richard Fisher, President of the Federal Reserve Bank of Dallas, noted that "our balance sheet has become bloated [at $4 trillion] and at some point, we will have to taper back on the pace of purchases." When that takes place, more than likely interest rates will rise. That is only logical: if buying bonds by the Federal Reserve kept interest rates low, then when it stops, interest rates should rise.
When that happens, the stock market should fall.
In that situation, publicly traded companies that pay dividends will be appealing as defensive stocks. Investors will want to buy equities from sectors that hold up well in downturns, such as consumer (McDonald's, Wal-Mart, Coca-Cola) and utilities (Consolidated Edison). The dividend income also helps to prop up the total return. In his book, Enough, Jack Bogle, founder of the Vanguard Group, pointed out that more than 40 percent of the historic total return from an equity came from the dividend income.
A previous article on this site detailed how well dividend-paying stocks have held up throughout the history of the market. There is no reason to believe that will be any different for the future.
No matter what transpires with Yellen heading the Federal Reserve, stocks that pay dividends will fare well over the long term.
Posted-In: dividendsLong Ideas News Dividends Dividends Economics Federal Reserve Trading Ideas Best of Benzinga
View Comments and Join the Discussion!