3 Stocks to Profit from Emerging Consumer Markets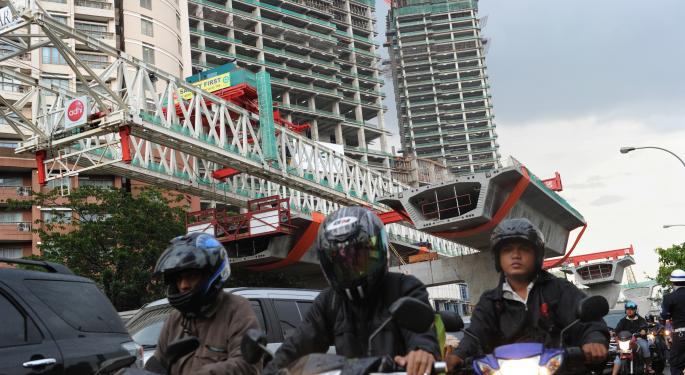 By 2025, predicts a McKinsey & Company report called "Winning the $30 Trillion Decathlon,"  more than half of the world's population will have joined the consuming class. Individuals who invest accordingly should do well, as the study estimates this movement will increase annual consumption in emerging markets to $30 trillion.
Stocks positioned to profit from the burgeoning emerging market consuming class include Boeing (NYSE: BA), Mondelez International (NASDAQ: MDLZ) and Peabody Energy Corp. (NYSE: BTU).
Boeing has already moved to gain from this growth. The most recent model of the Boeing-737 is ideal for Asian regional markets, particularly those in China. This is the airplane flown by Southwest Airlines (NYSE: LUV) that took the short haul airliner to its comanding position atop the passenger carrier sector in the United States.
A two engine, short- to middle-range jet, it is well-suited to service the growing urban market business and travel needs of Asia. According to a Reuters article by Alwyn Scott, "Boeing predicts, for example, that air traffic in the Asia-Pacific region will increase 6.3 percent a year over the next 20 years, driven by 4.5 percent annual economic growth in China and India and rising middle-class incomes."
Mondelez International is the global snacks food division spun off from Kraft Foods (NASDAQ: KRFT). That transaction took place specifically to allow shareholders to profit from higher growth in emerging markets, which is the strength of Mondelez. About 40 percent of sales for Mondelez International now take place in emerging markets, with a 9.5 percent revenue growth posted last quarter in those areas.
For the year, Boeing has soared nearly 80 percent; with Mondelez posting a gain of nearly 34 percent.
Unlike Boeing and Mondelez International, Peabody Energy is down for the year, off more than 20 percent. But the export market for Peabody has a bullish future, due to demand from China, India and other Asian customers.
Coal exports to India are up 37 percent this year already for Peabody Energy. As was detailed in a previous article, this stock is a turnaround play with limited downside -- as it is the premier company in the coal sector.
The investor community is very bullish on Peabody Energy, Mondelez International and Boeing. Now trading around $20.80 a share, the mean analyst target price for Peabody over the next year of market action is $23.74.
Currently around $132.80, Boeing is expected to ascend to $143.71, based on the average of analyst predictions.
Mondelez is around $33.60, with activist investor Norman Peltz claiming it should be trading around $70 a share.
The further growth of the consuming class in emerging markets should continue to take the share price of these three companies even higher. All pay a dividend that will add to the total return for investors.
With consumer demand continuing to increase in emerging markets, so should the stock prices for Boeing, Mondelez International and Peabody Energy Corp.
Posted-In: Long Ideas News Dividends Emerging Markets Global Economics Markets Trading Ideas Best of Benzinga
View Comments and Join the Discussion!