Three Reasons Why Paychex Is A Warren Buffett Stock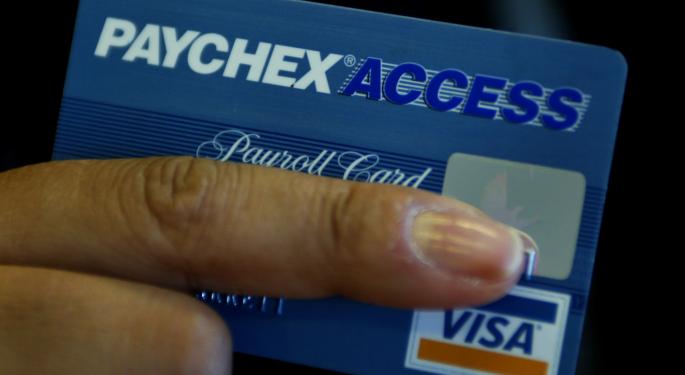 Of all of the statements made by Warren Buffett that reveal his evolution as an investor, his observation that, "It's far better to buy a wonderful company at a fair price than a fair company at a wonderful price," is the most telling.
Previously, Buffett had been an adherent to the Value School of Investing, searching for the last few puffs from a discarded cigar butt for free.
But investments in recent years in Lubrizol, Heinz and Burlington Northern Santa Fe Railroad show that "The Oracle of Omaha" is not bending over to pick up cigar butts with his billions. For that change in philosophy, there are three reasons that Paychex (NASDAQ: PAYX), a leader in the staffing and outsourcing industry, could be a Warren Buffett acquisition for the portfolio of Berkshire Hathaway (NYSE: BRK-A).
Paychex is the premier company in the $100 billion staffing and outsourcing sector: no cigar butt, here. It has a profit margin of 24.60 percent.
The analyst community projects that earnings-per-share for Paychex will average 10 percent over the next five years. According to Buffett biographer Carol Loomis, return-on-equity (ROE) is of paramount importance: the 33.90 percent mark for Paychex demonstrates its preeminence (10-12 percent ROE is the historic average for stocks).
The industry in which Paychex operates is booming, which Buffett also favors.
This group should continue to do well due to companies not wanting to hire full-time workers as a result of the weak recovery from The Great Recession and the higher employee costs imposed by the Affordable Care Act/Obamacare. Due to the increasing demand, Paychex is up more than 35 percent this year. ManpowerGroup (NYSE: MAN), another leader, is up more than 80 percent. Small caps in the sector are doing well, too. TrueBlue (NYSE: TBI), which operates in the $29 billion demand labor segment of the staffing industry, is up more than 70 percent. Another small cap in the demand labor sector, Labor SMART (OTC: OCTX), just reported record revenues.
There is also a strong balance sheet and income statement for Paychex. Buffet abhors debt, and Paychex has none. What Paychex does have that Buffett loves is a strong cash flow that it shares with its stockholders: there is a dividend yield of 3.36 percent that was increased by six percent earlier this year.
Even without Buffett investing, the outlook for Paychex is bullish: Deutsche Bank just raised its target price. In a recent interview, Martin Mucci, the CEO of Paychex, stated, "There is still lots of opportunity in the US." That "opportunity" ahead might be too much for "The Oracle of Omaha" to pass up in not adding Paychex to the Berkshire Hathaway portfolio.
Posted-In: Carol Loomis Martin Mucci Warren BuffettLong Ideas News Management Trading Ideas Best of Benzinga
View Comments and Join the Discussion!