Why You Should Have Been Long GameStop Today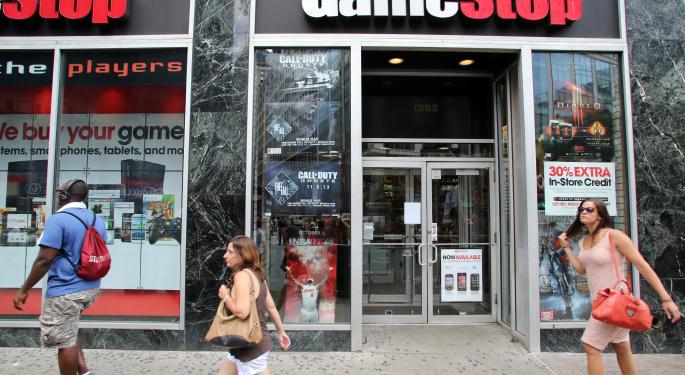 GameStop (NYSE: GME) has had quite a year already. The stock is up over 106 percent in 2013, and has been a top-performer in one of the markets strongest sectors - Consumer Discretionary.
Most traders are probably thinking - "Didn't we miss the move by half of a year?"
While this stock would have been a great pickup at the beginning of the year or just before the summer, there is still a lot to like about GameStop. First, I like that Consumer Discretionary continues to exhibit leadership. It has been in the top three performing sectors all year, and investors can't seem to stop buying its sub-industries like Computer & Electronics Retail, Auto Parts & Equipment, Internet Retail, etc.
Other industries that were on fire in the first half of the year, like Biotech and Staples, have quickly fallen out of favor in recent months, but Discretionary just keeps on going.
While not nearly a proper fundamental analysis, we like the current outlook for GameStop heading into the holiday season too. Among the items bound to generate some positive headlines are: A new generation of consoles (Xbox One, PS4), a new current- and next-gen Call of Duty game (Call of Duty: Ghosts), and Grand Theft Auto V's recent record-setting sales.
While it will take until the earnings report to find out just how these items affected GameStop's financials, it creates buzz and generates headlines around the stock, and these day's that's just as good (and in some cases, better) than sterling fundamentals.
GameStop has got a great technical chart, and the stop is about as clear as they come at $43.90.
Should it break out above $55, traders should hold up until the earnings call on November 21, but consider taking profits before the announcement so there isn't too much risk.
When To Consider Entering the Trade:
At the current price (~$51.40), or on a pullback to the 50-day moving average ($50.10).
When To Consider Exiting the Trade:
At a close below $49.30 (Breakdown) / A close above $55.00 (Profit-Taking)
Disclosure: At the time of publication the author owned the following positions: GME
Gamestop Corp -Last 30 Days 

Gamestop Corp -Last 3 Months

Gamestop Corp -Last 6 Months

Tags: gamestop
Posted in: Long Ideas Trading Ideas Best of Benzinga