The Bi-Partisan Debt Debate: All-Or-None vs. Fill-Or-Kill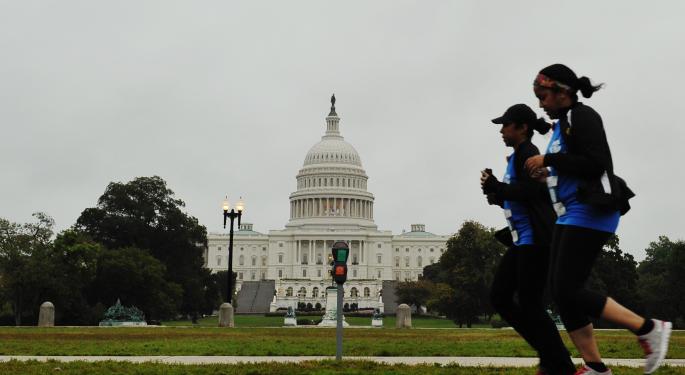 By Bryan Wiener
As we enter week three of the US debt debacle, the powers that be are not necessarily closer to an agreement than they were 14 days ago, but investors are seemingly pricing that probability into the market.
The major indexes in the US rose in dramatic fashion last Thursday, with the S&P 500 (NASDAQ: SPY), Nasdaq 100 (NASDAQ: NDX) and Dow Jones Industrial Average soaring 2.2 percent, the second biggest surge of the year. This coming after it was leaked late Wednesday that Republican leaders would simply vote to extend the US government's authority to borrow for six more weeks.
To put it another way, investors bought into our nation's stock market at a level only surpassed by one other trading day on the basis that there would simply be a vote to provide a debt extension. Money managers, professional traders and private investors are obviously looking for any opportunity to fully submerge themselves into the market, but safety is not a guarantee at this point in the game.
The Republicans, headed by Speaker of the House John Boehner, are tired and beat down. Their reputation as uncaring money-hogging brutes has worsened in the eyes of the liberal media, with onus focusing primarily on Tea Party Republicans. In fact, according to CNBC, on Friday, a majority of the public polled believe that the entire US Congress should be fired.
Fired.
There would no longer be a legislative body if the average citizen was in charge of hiring and firing US elected officials. This is a microcosm of the investor base in this country. They are a very reactionary bunch, which contributes to a very volatile stock market.
The atmosphere was uplifted this past weekend as news spread that Republican Senate Minority Leader Mitch McConnell requested to negotiate with Democrat Senate Majority Leader Harry Reid. The weekend came and went with no progress.
Essentially, the Democrats' budget bill is an all-or-none order: they will not pass a debt resolution agreement with the Republicans unless all their demands are met, including not allowing government agency, or sequester, cuts. Meanwhile, the Republicans can only take so much from legislators on the other side of the aisle.
As it stands now, if the two sides do not come to an agreement, the GOP will present a fill-or-kill order: either pass their bipartisan agreement or leave it and let the country default on its payments, causing a global market meltdown and most likely sending the country into recession.
This is shaping up to be an interesting week nonetheless. Google's (NASDAQ: GOOG) earnings release on Thursday should be even that much more eventful…
Posted-In: Long Ideas News Short Ideas Futures Options Events Global Econ #s Best of Benzinga
View Comments and Join the Discussion!