Global Warming - What's the Long-Term Investment Strategy?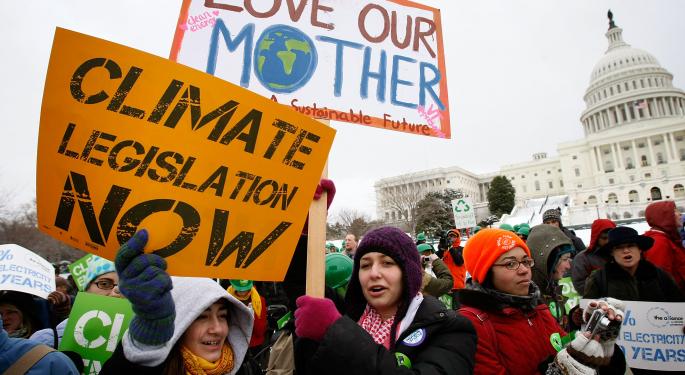 Savvy and experienced investors are always on the lookout for the next big investment opportunity and recognize one when they see it.
Believe it or not, the phenomenon known as global warming is becoming one of the most buzzed about opportunities for investors to cash in on.
Global warming itself is not a new opportunity in the world of finance, at least not entirely. Wall Street has actually spent years investing in global warming plays, but most of that investing was geared toward combating it. There has been something of a paradigm shift over the past few years, however, that has investors saying "if you can't beat 'em, join 'em."
In other words, rather than spend money fighting global warming in the hopes that there may be some moderately respectable return, why not try to profit from it?
The first question that probably comes to most peoples' minds is to wonder: How can global warming actually be profitable?
Clean tech stocks and renewable or "green" energy have been all the rage for a while, but political pressure and government subsidies put the kibosh on all of that.
Companies like British Petroleum (NYSE: BP) were jumping all over themselves to show the public that they were serious about alternative energy. The focus now is investing in companies that have the capacity to manage not just global warming, but the effects of all elements of climate change.
Hedge funds are becoming more and more interested, for example, in companies that deal with water treatment and distribution. Weather-related derivatives that reduce the risk of loss due to natural catastrophes are where many big players are looking.
In a nutshell, companies are actually rooting for inclement and even severe weather to become more frequent. As incidents of volatile weather increase, risk increases, which in turn generates an ever-increasing need to protect against that risk.
In terms of the aforementioned water treatment and distribution companies, drought is helping to turn funds like PowerShares Water Resources Portfolio (NYSE: PHO) into veritable cash cows.
The key is to think long-term when it comes to a weather-related investment strategy. Water is an asset and it is one that becomes more valuable with the continued proliferation of climate change.
Global warming has also opened new ground for mining opportunities. Rising temperatures over the last several decades have led to the melting of the polar icecaps and other traditional frozen areas. South Greenland was an area that had previously been covered entirely by a glacier but is no longer thanks to increasing temperatures around the world in general and over Greenland in particular.
Mining companies are now 'chomping at the bit' to explore newly uncovered land masses like this in order to dig up valuable commodity resources like gold and copper that are known to be waiting under the surface in these areas. Companies like Barrick Gold (NYSE: ABX) are sure to be in on any cash-in in global warming related mining.
Global warming can have an economically positive impact on investment portfolios if people know how to take advantage of it, as in the case of the mining companies. At the end of the day there is a growing uneasiness regarding climate change and how it will affect the world population and that uneasiness is likely to mean big profits for those who know how to cash in on it.
People want protection from the elements and after witnessing events like Hurricane Sandy and the like combined with the ever-increasing frequency of these kinds of severe weather events; the companies that can provide that protection stand to generate record profits for the foreseeable future.
Posted-In: Global warmingLong Ideas Hedge Funds Trading Ideas General Best of Benzinga
View Comments and Join the Discussion!