A Look Ahead: This Week's ETFs to Watch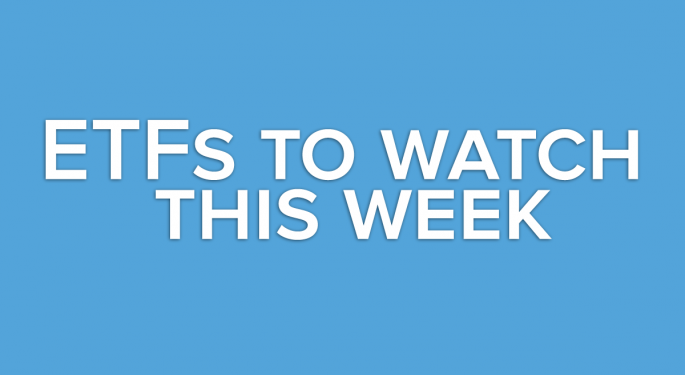 It was a wild week at the office last week for U.S. stocks.
There was the build up to the conclusion of the Federal Reserve meeting Wednesday, which resulted in the central bank eschewing tapering of its quantitative easing program. At least for one month and that was enough to send the S&P 500 and the Dow Jones Industrial Average rising to new all-time highs.
Related: No Post-Fed Party For Insurance ETFs.
It was not all fun and games for riskier assets, though. In fact, the just completed week was a rather dour one for some sector ETFs, including those tracking the regional bank and insurance sub-industries. And do not get us started on precious metals miners, which wilted like delicate flowers during Friday's sell-off that saw stocks give up all of their no tapering gains.
Headwinds are abound. Tapering is not dead, not by a long shot and some expect it could happen in October. Speaking of October, it is almost here and it is not a good month to be long stocks. It is, however, a good idea, to keep an eye on the following ETFs in the week ahead.
Direxion Daily Gold Miners Bear 3X Shares (NYSE: DUST)
Yes, the Direxion Daily Gold Miners Bear 3X Shares makes frequent appearances on this list, but with good reason. DUST's nearly nine percent loss over the past week looks deceiving because most of the ETF's tumble was accrued during the post-Fed rally on Wednesday. By the time the closing bell rang Friday, the Market Vectors Gold Miners ETF (NYSE: GDX) had given up all of its no tapering gains, not a good sign.
That could have been seen coming. GDX was unable to break through $31, a critical resistance area during its August rally and is now flirting with support at $25 again. Gold miners ETFs giveth and taketh away rather quickly and if GDX falls below $25 this week, $DUST could be flirting with $40 sooner than later.
Global X FTSE Greece 20 ETF (NYSE: GREK)
An interesting choice for this week's list, but here is why: German Chancellor Angela Merkel cruised to an easier-than-expected victory in Germany's national elections over the weekend. Easier-than-expected because Merkel's policies of using Germany's economic prowess to help financially downtrodden eurozone states such as Greece has been controversial in her homeland.
Said another way, someday, ordinary Germans are going to be stuck with the tab for helping out the PIIGS. Still, those ordinary Germans seemed more focused on Germany's solid economy, which sent Merkel to victory.
This is good news for Greece and GREK because the country and the ETF need a friend in Germany. The European Union, European Central Bank and the International Monetary Fund review Greece's reform efforts next month and the IMF has recently said Greece could need another bailout next year.
iShares Russell 2000 ETF (NYSE: IWM)
The iShares Russell 2000 ETF gained nearly two percent last week, but that statistic is an act of deception because small-caps retreated as risk appetite diminished. There have been few bumps in the road for IWM on the ETF's way to a 27.3 percent year-to-date gain, but tapering is problematic for small-cap ETFs.
Additionally, it cannot be ignored that October is the worst month of the year for the Russell 2000. Perhaps it is time to get acquainted with the Direxion Daily Small Cap Bear 3X Shares (NYSE: TZA).
For more on ETFs, click here.
Posted-In: Long Ideas Sector ETFs Broad U.S. Equity ETFs Short Ideas Specialty ETFs New ETFs Small Cap Analysis Emerging Market ETFs Best of Benzinga
View Comments and Join the Discussion!