'Just Say No' To Contango With This New ETF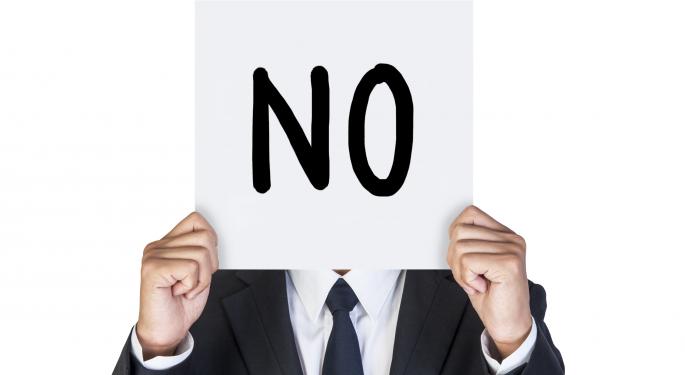 Contango, the scenario under which a commodity's futures price is above the spot price, is a situation many ETF investors look to avoid.
However, some futures-based commodities ETFs and ETNs roll those futures every month, leading to higher fees and lower returns for investors.
The new iShares Dow Jones-UBS Roll Select Commodity Index Trust (NYSE: CMDT), which came to market Friday, looks to solve that conundrum. CMDT " first exchange traded product based on the Dow Jones-UBS Roll Select Commodity Index, which currently tracks 22 commodities futures contracts, including agriculture, energy and metals, and is designed to minimize the costs of closing expiring futures contracts and replacing them for new ones," according to a statement issued by iShares.
Related: Eight Commodities ETFs for 2013.
CMDT, which has an annual expense ratio 0.75 percent, devotes 37.5 percent of its weight to energy commodities with March 2014 NYMEX-traded natural gas and January 2014 West Texas Intermediate crude oil representing the new ETF's top-two holdings at a combined 23.9 percent, according to the fund's fact sheet.
" Many investors look to commodities to diversify beyond stocks and bonds, but when investing in commodity funds that typically hold futures contracts, the buying and selling of contracts can detract from fund performance. By using an innovative index the iShares Dow Jones-UBS Roll Select Commodity Index Trust seeks to minimize the costs of changing or 'rolling' futures contracts, enabling the Trust to ultimately provide investors efficient access to diversified commodities," said Ravi Goutam, Head of Americas Product for iShares at BlackRock, in the statement.
CMDT's other top-10 holdings include a Comex gold contract, copper, Brent crude (the global benchmark for oil futures), corn and soybeans. Although metals combine for 28 percent of CMDT's index, silver, one of the more heavily traded precious metals is not included in the new ETF's top-10 holdings. iShares is the sponsor of the world's largest silver ETF, the $6.5 billion iShares Silver Trust (NYSE: SLV).
CMDT looks to solve the contango conundrum by rolling into the futures contracts that " show the most backwardation or least contango, selecting from those contracts with nine months or fewer until expiration," said iShares.
iShares has had previous success with multi-commodity funds such as the iShares S&P GSCI Commodity-Indexed Trust (NYSE: GSG). The seven year old GSG has over $1.1 billion in assets under management and tracks an index comprised of energy, industrial & precious metals, agricultural, and livestock commodities.
For more on ETFs, click here.
Posted-In: Long Ideas News Short Ideas Specialty ETFs New ETFs Futures Commodities After-Hours Center Best of Benzinga
View Comments and Join the Discussion!