Will This Time Be Different? Apple Back To Dominating Tech ETFs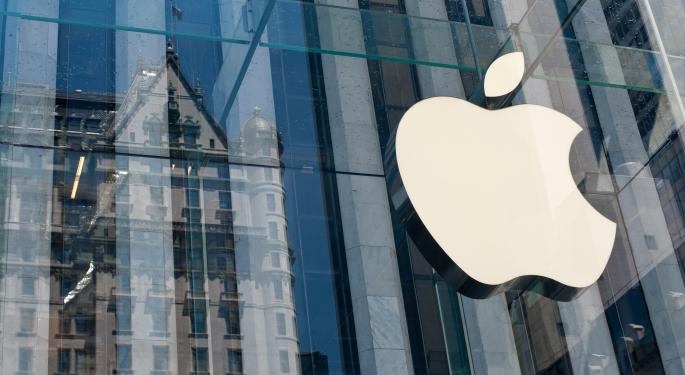 Quiet as it has been kept, Exxon Mobil (NYSE: XOM), the largest U.S. oil company, is in the midst of a 10-day losing streak.
Yet over the past month, shares of Apple (NASDAQ: AAPL) are up more than 12 percent, meaning the iPad maker is back to being the world's largest company by market value with a $16 billion lead over Exxon at the start of trading Wednesday.
That also means Apple is quietly reasserting its dominance over some of the largest technology sector ETFs. Investors in those funds can only hope this time is different.
The iShares U.S. Technology ETF (NYSE: IYW) now sports a 16.9 percent weight to Apple, one of the largest allocations to the stock of any ETF. That is far cry from the 22.2 percent IYW allocated to Apple in April 2012 when Apple traded around $610. The stock would proceed to race to $700 in September before commencing an epic tailspin.
Still, IYW's current weight to Apple, and that of the PowerShares QQQ (NASDAQ: QQQ), is 100 basis points higher today than where it was in April 2013. QQQ devotes 12.4 percent of its weight to Apple, nearly 500 basis points more than the weight given to Microsoft (NASDAQ: MSFT), the ETF's second-largest holding.
The Technology Select Sector SPDR (NYSE: XLK) has seen its Apple allocation rise to almost 14.2 percent as of Monday from 12.8 percent in April. That is 635 basis points ahead of the weight given to Google (NASDAQ: GOOG), XLK's number two holdings.
Since IYW, QQQ and XLK are market cap-weighted, these funds have to make Apple their largest holding. A stock holding a dominant position such as the one held by Apple in these ETFs can work. It has in the past. Until it does not.
Related: Two Top Ideas Among Fundamentally-Weighted ETFs.
Shares of Apple are off 15.3 percent year-to-date, but IYW and XLK are up an average of 7.3 percent, indicating the ETFs are getting some help from the likes of Google, Cisco (NASDAQ: CSCO) and others. Still, those are market-lagging returns, proving that Apple has adversely impacted those ETFs. XLK is merely the second-best performer among the nine SPDRs funds this year.
As for QQQ, that ETF is up nearly 14 percent year-to-date, but it has the smallest allocation to Apple of the three funds mentioned here. It also has the largest weight to Internet stocks and a helpful 14 percent weight to health care names, which on the Nasdaq means plenty of biotechnology stocks.
ETF investors that were previously burned by Apple's decline can guard against a sequel and still grab ample technology exposure with several ETFs. The First Trust NASDAQ-100 Equal Weighted Index Fund (NASDAQ: QQEW) is a barely more than one percent weight to Apple, but the fund has surged 21 percent this.
Dividend ETFs are options to consider as well because technology is now the largest dividend-paying sector in the U.S. and Apple is part of the reason for the tech dividend boom. The First Trust NASDAQ Technology Dividend Index Fund (NASDAQ: TDIV) has an 8.1 percent weight to Apple.
The WisdomTree U.S. Dividend Growth Fund (NASDAQ: DGRW) has a 20 percent weight to tech and Apple is the new ETF's largest holding at just under five percent.
For more on ETFs, click here.
View Comments and Join the Discussion!
Posted-In: Long Ideas News Sector ETFs Broad U.S. Equity ETFs Short Ideas Dividends Dividends New ETFs Best of Benzinga