New ETF Brings Dividend Growth Concept to Emerging Markets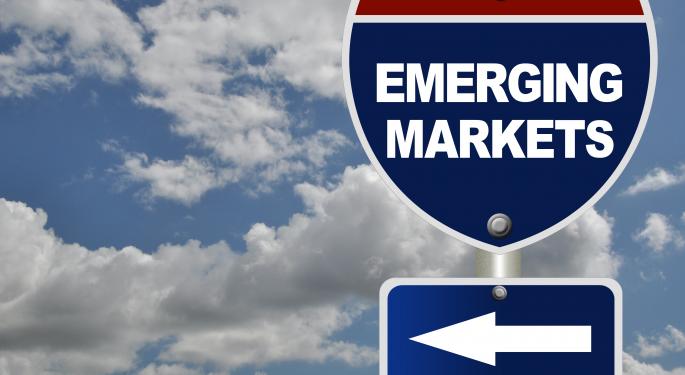 WisdomTree (NASDAQ: WETF), already one of the top issuers of dividend ETFs, continues to bulk up that lineup with Thursday's introduction of the WisdomTree Emerging Markets Dividend Growth Fund (NASDAQ: DGRE), the firm's third emerging markets dividend ETF.
The WisdomTree Emerging Markets Dividend Growth Fund is also the second ETF introduced by the firm in a week that focuses on the potential of its holdings to deliver future dividend growth. Last week, the WisdomTree U.S. SmallCap Dividend Growth Fund (NYSE: DGRS) debuted, becoming the first U.S.-listed ETF to focus on dividend growth leadership in the small-cap space
"While many dividend-focused indexes in emerging markets focus on yield and valuation, there is a dearth of options that focus on dividend growth. We believe that DGRE offers the investment flexibility to respond to dividend growth potential rather than historical dividend behavior, aligning nicely with dividend behavior of emerging market companies," said WisdomTree Research Director Jeremy Schwartz in a statement.
Indeed, unlike so many emerging markets ETFs that are heavy on financial services, energy or materials names, DGRE's top sector weight is 19.2 percent to staples followed by 19 percent to telecom. Financials, materials and technology round out the fund's top-five sector exposures. DGRE has an annual expense ratio of 0.63 percent.
Related: Further Proof You're Buying The Wrong Dividend ETFs.
DGRE's country allocations are also noteworthy. In a year when the BRIC quartet has collectively delivered dismal returns, investors may be looking for other ways of gaining emerging markets exposure. DGRE is underweight BRIC.
"DGRE is underweight the 'BRIC' countries – Brazil, Russia, India, China – and holds some of its largest weights in the 'MIT' countries – Mexico, Indonesia and Thailand–again, which differs from traditional, comparable investments," said Schwartz.
Combined, the four BRIC nations represent about 33.6 percent of DGRE's weight compared to a roughly 41 percent allocation for those countries in the MSCI Emerging Markets Index. DGRE's top-five country weights are Brazil at 14.8 percent, South Africa at 14.3 percent, Indonesia at nearly 13.5 percent, Russia at almost 11 percent and Mexico at 10. 2 percent.
DGRE is the fourth dividend ETF in WisdomTree's dividend growth lineup with the others being the WisdomTree U.S. SmallCap Dividend Growth Fund, the WisdomTree U.S. Dividend Growth Fund and the WisdomTree Global ex-US Growth Fund (NYSE: DNL).
The firm is also a leader in emerging markets dividend ETFs as the WisdomTree Emerging Markets Equity Income Fund (NYSE: DEM) and the WisdomTree Emerging Markets SmallCap Dividend Fund (NYSE: DGS) have about $6.3 billion in combined assets under management.
For more on ETFs, click here.
View Comments and Join the Discussion!
Posted-In: Long Ideas News Short Ideas Dividends Dividends Emerging Markets Specialty ETFs New ETFs Best of Benzinga