Options Trade Setting Up in Google (GOOG)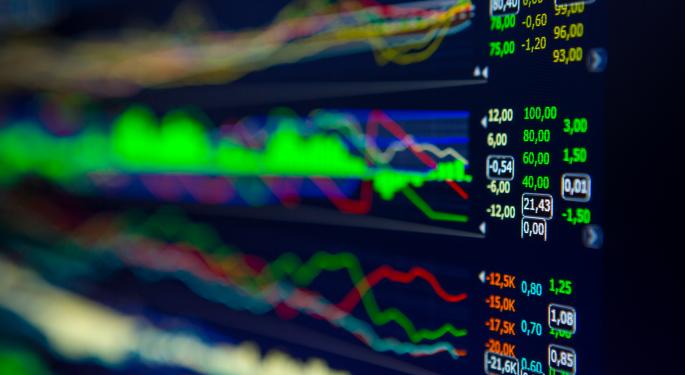 Earnings season so far has been somewhat of a snoozer.
There's been some hits and some misses and the market has kept on like nothing has happened.
One of the more interesting misses was on Google (NASDAQ: GOOG). Google announced earnings on July 18, which was a miss. The next day the stock opened down but quickly rallied to finish only slightly down for the day. Even now, a couple of days later, Google still hasn't gone anywhere.
So what is moving?
In one word, volatility. It is no surprise to option traders that volatility in stocks gets crushed after earnings. If you don't know, volatility is the measure of how much "they" think a stock is going to move. It is directionless, so a stock with 100 percent volatility means traders believe the stock with either double within a year or go to $0.
Now volatility is not an exact science and it is usually wrong. Volatility gets run up into earnings. This makes sense because traders believe an earnings announcement will cause the stock to move greater than normal. It is that uncertainty of what an earnings announcement will be or do that drives volatility higher. When earnings are released, however, that uncertainty is gone and volatility drops. This phenomenon is known as the volatility crush.
Sometimes volatility gets pushed to one extreme, and when we take a look at Google's volatility we can see this happening.
Notice how the implied volatility for 30 and 60 days out are in the gutter. This is at the lowest it has been in the last two years. The last time it was at this level was right after earnings before it rallied back.
Traders need a play that will make money when volatility goes up. One of the favorite plays for volatility is the long straddle. The long straddle will make money if volatility rises plus it will make money if Google moves in either direction.
If a trader is learning bullish you can pick up long calls or bearish you can pick up long puts. Now is the time to get them for cheap. You don't want to sell options here because that is fighting an uphill battle.
So how to make money with this?
The long straddle at the 900 strike (at-the-money) is currently trading at 29.55 for the August expiration, 24 days out. That means Google only has to move 3.3 percent in 24 days and also seems very feasible. If more time is needed for Google to work its magic, then look to the September expiration.
These options expire in 59 days and you can pick up the long straddle at the 900 strike for 48.35. That is looking for a 5.5 percent move in 59 days. Again, these options are very cheap making this the right time to pick them up.
Here is what the two trade look like:
Both of these plays are attractive, but it just depends on how much time should be given to the trade. What makes this a good trade is that Google doesn't have to move if volatility returns to normal levels. When volatility begins to rise it will cause the long call and long put to rise.
Tags: options
Posted in: Long Ideas Short Ideas Technicals Options Markets Trading Ideas Best of Benzinga