The Race to $1,000 ETF You've Never Heard Of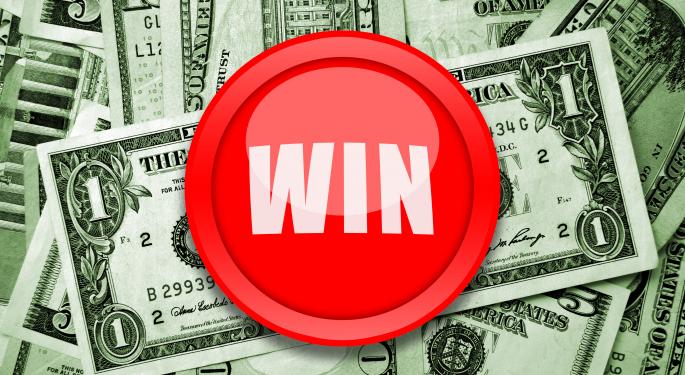 If you're like many investors, you've probably heard about the "race to $1,000."
As in which stock will get their first: Google (NASDAQ: GOOG) or Priceline.com (NASDAQ: PCLN)? The point is not only fun to ponder, but worthy of consideration right here and now because both stocks are trading just under $920.
A couple of good days for those high-flying Internet darlings could have either or both sitting at $1,000 sooner than later. And while share price is not indicative of a stock being cheap or expensive, remember the experts that said Apple (NASDAQ: AAPL) was cheap at $700?, the reality is not a lot of investors can commit the capital necessary to build up large positions in stocks like Google and Priceline.
Investors looking to participate in further Google and/or Priceline upside should consider the PowerShares NASDAQ Internet Portfolio (NASDAQ: PNQI). The unheralded PNQI has previously been highlighted as a credible ETF play on several triple-digit Internet darlings, including Amazon (NASDAQ: AMZN) and Netflix (NASDAQ: NFLX).
Those stocks currently combine for 12.4 percent of the ETF's weight. More important to the race to $1,000 debate is the fact that Priceline and Google represent 16.4 percent of PNQI's weight and the former is the ETF's largest holding. Google is fourth behind Priceline, Amazon and Facebook (NASDAQ: FB).
PNQI remains a legitimate avenue for investors looking to gain access to triple-digit stocks. Half of the ETF's top-10 holdings are members of the triple-digit club and Baidu (NASDAQ: BIDU), the Google of China, is not far off. In fact, the lowest-priced member of PNQI's triple-digit group is Equinix (NASDAQ: EQIX) and that stock still goes for over $200 a share.
Back to the race to $1,000. This competition has been a boon for PNQI. The ETF is up 12.6 percent in the past 90 days, a gain that puts the fund more than 400 basis points ahead of the Nasdaq Composite over the same time. Owning the ETF over that 90-day has also been a better idea than owning top-10 holdings Amazon, Facebook, eBay (NASDAQ: EBAY), Baidu and Yahoo (NASDAQ: YHOO).
When considering that Amazon, Google, Netflix and Priceline have been on fire for essentially all of 2013 and that PNQI has far outpaced the Nasdaq Composite year-to-date, it is almost tragic the fund has not been on the receiving end of more acclaim.
That situation is easy to explain. PNQI has just $74.7 million in assets under management, a number that encourages those that falsely think $100 million in AUM for an ETF means the ETF is good to stay away.
As the returns offered by PNQI and its holdings indicate, staying away from this ETF has proven to be a dreadful idea. Liquidity? PNQI has it. Through all of 2012's 250 trading and the first 124 trading days of this year, the ETF never traded at a noticeable discount or premium to its net asset value, according to PowerShares data.
Investors may want to have a look at PNQI before the race to $1,000 becomes the race to $1,200, to $1,500 and so on.
For more on ETFs, click here.
Posted-In: Long Ideas News Sector ETFs Short Ideas Intraday Update After-Hours Center Markets Movers Best of Benzinga
View Comments and Join the Discussion!