Institutions Love Arctic Cat's Record Earnings and Share Price (ACAT)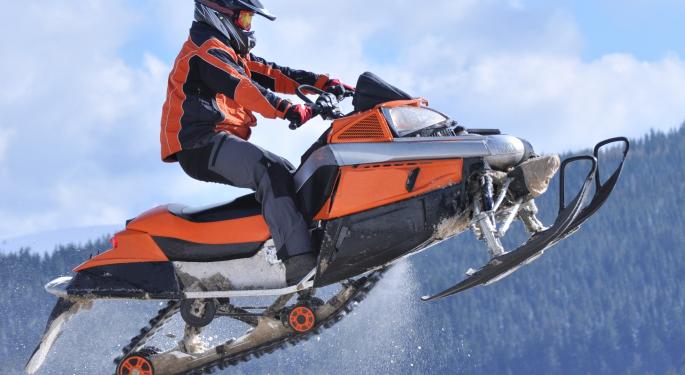 Arctic Cat (NASDAQ: ACAT) designs and produces snowmobiles, ATVs, and side-by-side vehicles. The company employs over 1,500 people with most of the company's products produced in Minnesota.
Industry
The majority of Arctic Cat's products are used for recreational and utility purposes. In 2012 129,087 snow mobiles were sold by all companies, including almost 50,000 in the United States and over 40,000 in Canada. More than 1.6 million snowmobiles are registered in the United States, according to the ASCA.
Sales of ATVs had been on a decline for several years before rising in 2012. More than 225,000 units were sold in the United states with approximately 50,000 sold in Canada. Conversely, sales of side-by-sides have been rising, up 20 percent in 2012 to 229,000.
Competitors
In the annual report, Arctic Cat identifies Bombardier (OTC: BDRBF), Polaris (NYSE: PII), and Yamaha as primary competitors. These companies compete in all three segments Arctic Cat is active in. Innovation, performance, and brand loyalty are identified as main grounds for competition.
Key Risk Factors
Because the majority of the company's products are used for recreational purposes, Arctic Cat is especially prone to economic downturn. In the most recent recession, sales fell by 38 percent from 2004 to 2009.
Because the company's products are associated with deaths and injuries, significant safety regulations are in place. Heightened safety legislation or strict environmental legislation could pose a serious threat to operations.
Financials
Since 2009, sales and earnings have been rising, up 49 percent and 1,900 percent, respectively. Arctic Cat delivered the highest earnings in the company's history for fiscal 2013. Over the past two years sales rose 15 percent with earnings jumping almost 33 percent.
Sales for the most recent year were especially fueled by increased side-by-side sales. By maintaining high standards of cost control, the company was able to lower operating expenses as a percent of sales. As a result, 2013 diluted EPS grew 68 percent year over year.
In May Arctic Cat reinstated a dividend, paying a 0.78 percent yield. A 30 million dollar share repurchasing program was also announced.
Related: Arctic Cat Announces Share Buyback
Growth Factors
Arctic Cat foresees growth with its portfolio of innovative products and technologies, market share gains in the side-by-side market, international expansion, and continued leverage in its cost structure.
The company plans to further increase its ATV and side-by-side sales as a percentage of total sales. These segments made up 45 percent of 2013 sales, up six percent from the previous year. Leading this effort are new side-by-side products and international growth.
Institutions and Insiders
Over 90 percent of shares are owned by institutions, a figure that increased over the past quarter. Goldman Sachs is the largest owner, with a 33.8 million dollar stake. With shares at all time highs, insiders have taken part in both sales and dispositions recently.
The jump in share price has caused the short interest to fall more than six percent recently. Shorts covering their positions may be part of the share price jump.
Up 35 percent this year, share closed Tuesday at $51.47.
Posted-In: ATF Goldman Sachs regulation Side-by-side SnowmobileLong Ideas Small Cap Analysis Trading Ideas Best of Benzinga
View Comments and Join the Discussion!