ETF Showdown: Israel in The Spotlight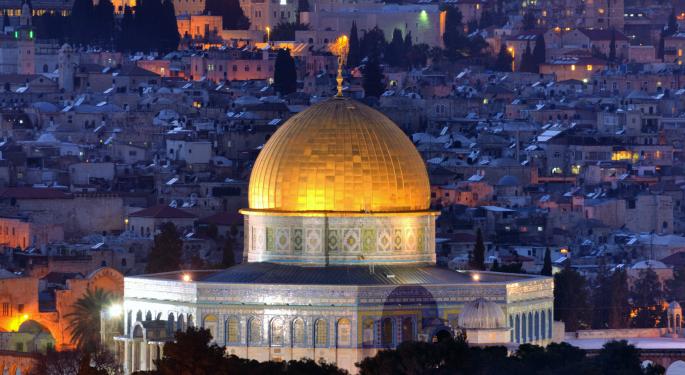 Market Vectors rolled out the Market Vectors Israel ETF (NYSE: ISRA) Wednesday. The new fund gives investors a second Israel ETF to choose from and represents the 53rd Market Vectors ETF to come to market.
ISRA will contend with the $76.5 million iShares MSCI Israel Capped Investable Market Index Fund
(NYSE: EIS) for investors' affection among Israel ETFs. Although the U.S. and Japan have gotten most of the attention for being the top-performing developed markets this year, Israel has been solid though not spectacular as EIS is up six percent in the past six months.
The good news for investors looking to tap into Israeli equities via ETFs is that ISRA is not a direct "me too" version of EIS. Not only is the new ETF slightly cheaper with an annual fee of 0.59 percent compared to 0.6 percent for EIS, ISRA will go about its business in much different fashion than EIS.
ISRA tracks the BlueStar Israel Global Index, which was built by Steven Schoenfeld's BlueStar Indexes. That index and its methodology ensure that although ISRA and EIS have duplicate holdings, the new ETF is noticeably different than its more season counterpart.
"Should a component represent greater than 12.5% of the weight of the Index, the weight shall be modified such that it represents no more than 12.5% of the Index. The cumulative weight of all components with an individual weight of 5% or greater do not in the aggregate account for more than 50% of the weight of the Index," according to a Market Vectors SEC filing released before ISRA's debut.
Like EIS, ISRA counts Teva Pharmaceuticals (NASDAQ: TEVA) as its top holding, but that stock's weight in ISRA is 13 percent compared to 23.5 percent in EIS. ISRA also features significant weights to U.S.-listed Israeli companies such as Perrigo (NYSE: PRGO), Check Point Software (NASDAQ: CHKP) and Amdocs (NYSE: DOX). Those three names combine for about 21 percent of ISRA' weight, but are not even found among the 62 stocks held by EIS.
ISRA also features an allocation, albeit small at just over one percent, to high-flying SodaStream International (NASDAQ: SODA), another familiar Israeli stock that is not featured in EIS.
The differences between the two ETFs in terms of individual holdings predictably translate to significant differences at the sector level. For example, EIS devotes 56.5 percent of its weight to financials and health care names. ISRA allocates roughly the same percentage to technology and health care.
ISRA's 30.4 weight to the tech sector is an important factor for investors to consider. Tech accounts for a quarter of Israeli exports, but through in Internet companies and biotech firms and that number jumps to 50 percent, according to CIO Today. Remember Waze, the Internet map company that Google (NASDAQ: GOOG) just shelled out $1.03 billion to buy? That is an Israeli company.
Obviously, ISRA is a brand new ETF and proclaiming it the winner over EIS is tricky given that investors do not have two track records to compare. When it comes to Israel ETFs, it boils down to what investors want: The perceived safety of the health care sector or the potential for growth and acquisitions of the tech sector. The good news is that ISRA and EIS are different enough that over the next few months, investors should see performance differentials that make picking the right fund easier.
For more on ETFs, click here.
Posted-In: Long Ideas News Short Ideas Specialty ETFs New ETFs Global Intraday Update Markets Best of Benzinga
View Comments and Join the Discussion!