An ETF Portfolio for Tony Soprano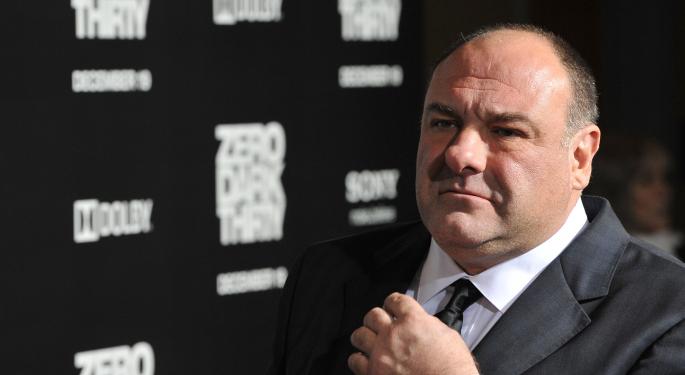 Rest in peace James Gandolfini.
The actor most known for his role as Tony Soprano in HBO hit series The Sopranos died Wednesday while vacationing in Italy at the age of 51. While the Emmy Award-winning Gandolfini is likely to be most remembered for his role as the tortured New Jersey mafia boss, his acting accomplishments extend beyond The Sopranos.
A character actor for much of his career before The Sopranos made his a household name, Gandolfini, among other accomplishments, was nominated for a Tony Award in 2009.
Still, Tony Soprano was one of those larger-than-life roles than few actors ever attain, let alone execute in fashion on par with Gandolfini. If Tony Soprano were your broker, he might have you invested in some of the following ETFs.
iShares MSCI Italy Index Fund (NYSE: EWI)
Before we're accused of some kind of ethnic stereotyping, let's acknowledge the reality that Tony Soprano was of Italian descent. So is the writer of this piece, 50 percent Italian in fact. All that aside, since Italy is one of the "I's" in the infamous PIIGS acronym, EWI is usually worth keeping an eye on. Owning it from the long side is usually a different story.
It has gone somewhat unnoticed that yields on Italian 10-year bonds have crept up to 4.26 percent from four percent six weeks ago. However, that is not Italy's biggest problem. Italy had an unemployment rate of 12 percent in April, not nearly as bad as Spain, but youth unemployment is pushing 37 percent.
That is a dangerously high number and one that could portend civil unrest down the road. At the very least, it dampens EWI's allure for long-term investors.
PowerShares Zacks Micro Cap Portfolio (NYSE: PZI)
Long-time fans of The Sopranos may remember a few episodes that delved into the shady world of penny stock boiler rooms. If not, get a refresher here, but remember, that clip is not G-rated.
On a more serious note, there is the case of the PowerShares Zacks Micro Cap Portfolio. This is a small ETF with just $45.6 million in assets under management, indicating it would draw plenty of scrutiny from the "I hate small ETFs" crowd. A misguided approach to be sure because PZI is up 17.2 percent year-to-date, a performance that tops some of its larger rivals. The ETF allocates over a third of its weight to financial services names.
Think about it: What would Tony Soprano do to his broker if that broker kept him out of a strong ETF just because the fund was small? Let's just say that broker would not be invited over for Sunday Dinner.
Market Vectors Environmental Services ETF (NYSE: EVX)
In honor of Barone Sanitation, which served as a front for some of the Soprano family's less legitimate businesses, the unheralded Market Vectors Environmental Services ETF makes the list.
In the case of EVX, "environmental services" is the polite way of saying trash haulers. That is what Waste Management (NYSE: WM) and Republic Services (NYSE: RSG), EVX's largest and third-largest holdings, do. Those stocks combine for 20.7 percent of the ETF's weight. Veolia Environnement (NYSE: VE) is the European rival to those companies and that stock is another 10.3 percent of EVX's weight.
Exposure to the "sanitation sciences" names does not come cheap as EVX had a P/E ratio of 23.28 at the end of May, according to Market Vectors data. That is well above the P/E of 14.3 on the Technology Select Sector SPDR (NYSE: XLK).
For more on ETFs, click here.
View Comments and Join the Discussion!
Posted-In: Long Ideas News Sector ETFs Short Ideas Specialty ETFs Events Pre-Market Outlook Intraday Update Best of Benzinga