Egypt ETF: A Wild Dip to Buy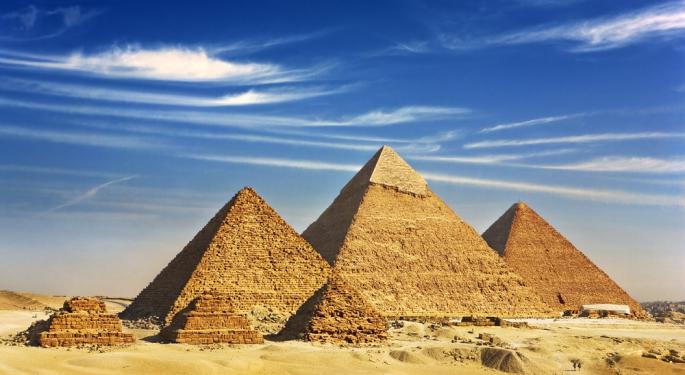 In a world fueled by massive amounts of monetary easing and voracious rate-cutting by scores of global central banks, dips in more sanguine times represented buying opportunities. The other side of that coin is that picking bottoms is tricky business and a task that is made even harder in the developing world.
Yet buyers are tempting fate in Egypt, North Africa's largest economy, and that explains why the downtrodden Market Vectors Egypt ETF (NYSE: EGPT) is up 2.7 percent Thursday. Just this month non-Arab foreign investors have committed $34 million to beaten down Egyptian stocks, according to Bloomberg.
That may not sound like a lot, and by some estimates $34 million is about seven hours of profit for Exxon Mobil (NYSE: XOM), but $34 million is 26 percent more than the current assets under management tally for EGPT.
To state the obvious, investing in Egypt is not for the faint of heart. Even after the Arab Spring two years ago, Egypt is still beset by political turmoil. Unemployment is well into the double-digits, but roughly a quarter of the nation's young people cannot find jobs.
Domestic and regional geopolitical concerns coupled with dwindling foreign currency reserves sent EGPT down 13 percent in the first quarter, but the declines have not stopped. Since the start of the second quarter, the ETF lost another 13 percent prior to Thursday's bounce.
EGPT sits with a year-to-date loss of almost 30 percent, one that confirms the bear market for the EGX 30. Egypt's benchmark index is off 23 percent since September, according to Bloomberg, but even in May foreigners were modest net buyers of Egyptian shares.
It is easy to see how some could be seduced by Egyptian stocks. Specific to EGPT, the ETF had a P/E ratio of less than 10 and a price-to-book ratio of less than one at the end of May, according to Market Vectors data, implying the fund trades a steep discount to the broader emerging markets universe. Then there is a 30-day SEC yield that is fast approaching 15 percent, though that is a yield to be cautious about.
Still, EGPT remains a mixed bag. At best. The ETF labors around its lowest levels since the Arab Spring and Egypt is in danger of losing its emerging markets status. Think that cannot happen? Think again. Index provider already demoted another North African nation, Morocco, to frontier from emerging status.
All of that is a long way of saying what investors should realize with Egypt and EGPT: There might be plenty of reward, but there is definitely ample risk.
For more on ETFs, click here.
Posted-In: Long Ideas News Short Ideas Emerging Market ETFs Events Global Intraday Update Markets Best of Benzinga
View Comments and Join the Discussion!