A Look Ahead: This Week's ETFs to Watch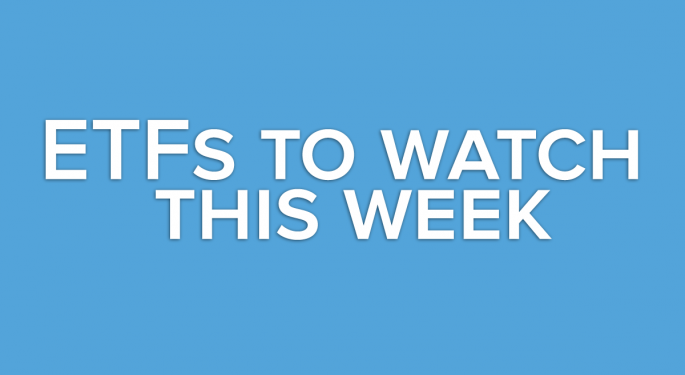 A better-than-expected May jobs report was the catalyst to lift U.S. stocks to another strong showing last week.
Employers added 175,000 new jobs last month, but the unemployment rate rose to 7.6 percent from 7.5 percent. Still, that was enough to hearten the bulls. Over the last two days of the week, the S&P 500 surged 2.1 percent to notch a weekly gain of 0.8 percent.
All three major U.S. indexes gained more than one percent on Friday.
The good thing about the jobs report, except for the part where the unemployment rate rose and the March and April numbers were revised lower, is the part where it probably was not strong enough to bring an immediate end to quantitative easing. However, a watered down version of QE appears likely and perhaps as soon as late in the third quarter. That is a reality markets must begin reconciling.
That and plenty of other issues in the week ahead that should have a meaningful impact on the following ETFs.
ProShares UltraShort FTSE China 25 (NYSE: FXP)
We are getting right to the heart of matter with the inclusion of FXP on this week's list. Rather than recommend a short position in the iShares FTSE China 25 Index Fund (NYSE: FXI), a long position in the double-leveraged FXP could be the alluring play for the early part of this week. It is obvious why that is the case.
China's exports rose just one percent last month, the lowest increase since July 2012. Economists expected a 7.3 percent increase. Imports fell 0.3 percent, but economists expected a six percent rise. At this writing, retail sales and industrial output data for May had not been released, but a Reuters poll taken before Sunday's retail and industrial data shows industrial output is seen up 9.3 percent, unchanged from April, while growth in fixed-asset investment, one of the two main drivers of China's economy in 2012, likely rose 20.5 percent in the first five months of this year, Reuters reported..
Markets are pricing in disappointment. When U.S. stocks soared Friday, FXI fell, meaning FXP was up. FXP also crept above its 200-day moving average last week, a bullish sign.
iShares MSCI Frontier 100 ETF (NYSE: FM)
There is an obvious reason why the iShares MSCI Frontier 100 ETF makes this week's list and, no, it is not the ongoing out-performance by frontier markets of their emerging markets peers.
Rather, on Tuesday, index provider MSCI (NYSE: MSCI) announces its annual market reclassification and that could be big news for Qatar and the United Arab Emirates. Qatar and UAE have been angling for a promotion to emerging markets status for several years, only to have been rebuffed by MSCI on the past five occasions.
There is no denying that stocks in Dubai have been among the world's best performers this year. Shares listed in Abu Dhabi, another Emirate, have been stellar as well. MSCI's decision could mean a epic near-term bounce or sell-off for FM and other frontier ETFs. There is not likely to be any middle ground.
WisdomTree Equity Income Fund (NYSE: DHS)
The WisdomTree Equity Income Fund merits consideration not because there are a slew of news events scheduled this week that could affect the ETF's 350 components. DHS is worth a look because although concerns about rising interest rates remain high, investors still like dividend stocks. It is merely a matter of being properly positioned in the dividend stock arena for future payout growth.
As has been previously noted, DHS accomplishes that with a 24.4 percent combined weight to technology and financial services names.
Additionally, the fund is more attractive than some of its larger, more heralded rivals on the basis of yield and total returns. DHS has a trailing 12-month yield of 3.2 percent, about 100 basis points higher than the largest dividend ETF.
For more on ETFs, click here.
View Comments and Join the Discussion!
Posted-In: Long Ideas News Sector ETFs Broad U.S. Equity ETFs Short Ideas Dividends Dividends Specialty ETFs Best of Benzinga