Tesla Becomes Apple For These ETFs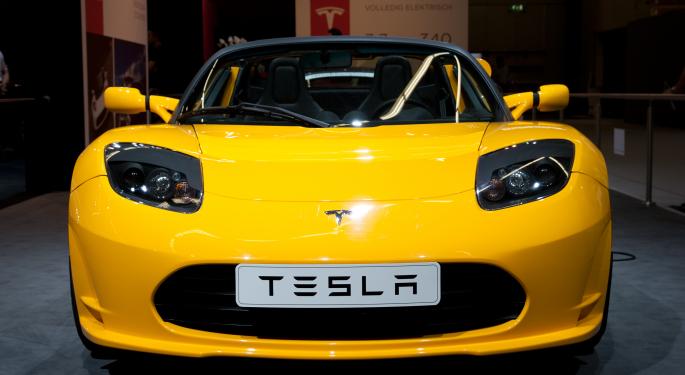 It may seem like ages ago that Apple (NASDAQ: AAPL) was racing to the stratosphere and investors were talking about the iPad maker becoming a $1,000 stock.
There was even chatter about a $1 trillion market capitalization, an often talked about but never seen Wall Street phenomenon.
ETF investors remember those days because when Apple traded above $500, $600 and to $700, ETFs became a capital-efficient way for many investors to access the stock. It was a practical move because plenty of large, liquid ETFs featured (and still do) large allocations to Apple. At Apple's peak, the stock accounted for over a fifth of the weight in some ETFs.
That was one of those scenarios that worked until it did not. It is also one that could be playing with another story stock, electric car maker Tesla (NASDAQ: TSLA) and the small number of ETFs that currently have large weight's to Elon Musk's company.
"People either love us or hate us but they are rarely indifferent," said Musk of his company.
Knowing that, it is not unreasonable to say traders and investors that actively follow Tesla are impassioned one way or the other, bull or bear. With that in mind, the intent here is not to edify or vilify Tesla. Rather, it is to highlight the Apple-esque effect the stock is having and could continue to have on a couple of still small ETFs.
As has been previously noted, the First Trust NASDAQ Clean Edge Green Energy Index Fund (NASDAQ: QCLN) is the ETF with the largest weight to Tesla, currently almost 16.1 percent.
In the past month, shares of Tesla are up 57 percent while QCLN has risen 11 percent. Tesla is proving to be a boon for QCLN in another way. On May 13, the ETF had $37.3 million in assets under management. At the start of trading Wednesday, the number was north of $48 million. Here is the rub: TSLA is down 11 percent in the past five days, taking QCLN for a 6.7 percent spill in the process.
The Market Vectors Global Alternative Energy ETF (NYSE: GEX) is another "Tesla ETF" with an almost 10 percent weight to the stock. That has been helpful on the way up as GEX has jumped over nine percent over the past month. The other side of the coin is that GEX is off 5.5 percent in the past week.
As is the case with QCLN, GEX has gotten a bit heftier in the assets waistline because of Tesla. On May 1, GEX had $63.5 million in AUM. On Wednesday, that number was up to $72 million.
Traders and investors are entitled to their own opinions about Tesla, but the undeniable fact is the stock, for better or worse, has taken on an Apple-esque role in GEX and QCLN.
For more on ETFs, click here.
Posted-In: Long Ideas News Sector ETFs Short Ideas Intraday Update Markets Movers Tech Best of Benzinga
View Comments and Join the Discussion!