Long Setup in Herbalife Still Attractive; Stock Breaks Out as New Auditor Hired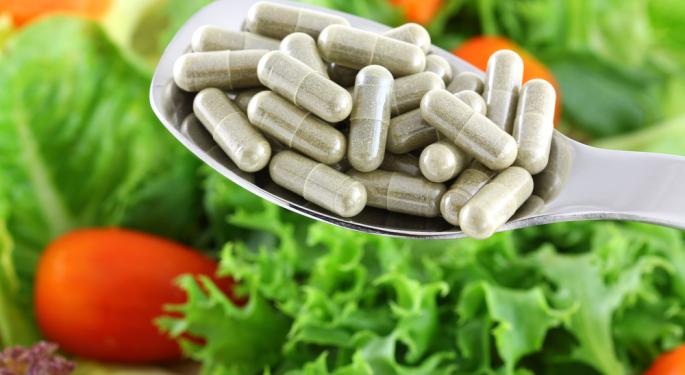 Few stocks have attracted more news over the last six months than nutritional supplement maker Herbalife (NYSE: HLF).
Even casual market observers are aware of the circumstances surrounding the the initial bout of extreme volatility in the name back in December 2012. The shares went into free-fall at the end of the year after hedge fund manager Bill Ackman revealed in typical sanctimonious fashion that his firm Pershing Square Capital Management was short around $1 billion worth of the stock.
Amid much pomp and circumstance, Ackman laid out his short thesis at a New York investment conference and immediately made the rounds in the financial media. The noted investor called the multi-level marketing company's business model a "pyramid scheme" and boldly proclaimed that his price target for the stock was "$0."
The way that the Pershing Square founder went about attacking Herbalife sure made it seem like he was trying to inflict maximum damage to the company in a very short period of time.
While Ackman's strategy was initially brutally effective, it quickly backfired on him. Herbalife shares swan-dived from above $42 on December 18, the day before the hedge fund manager's presentation, to a low of roughly $26 by Christmas Eve.
The news caused the heaviest high-volume selling in Herbalife's history as a publicly traded company. The stock bounced back nearly as quickly as it plunged, however, as numerous other investors and market observers came out in support of the company. Herbalife itself also aggressively refuted Ackman's allegations.
When two of the world's top hedge fund managers, Dan Loeb and Carl Icahn, revealed that their firms had bought large stakes in the Cayman Islands-based company the short-squeeze of Pershing Square was on.
It did not take long before the stock was trading back above levels seen pre-Ackman. While Loeb subsequently flipped the stock for a quick profit, Icahn appears to be in the trade for the long-term and he is applying the screws to his old nemesis Bill Ackman, with whom he had previously been involved in an acrimonious lawsuit.
Icahn was able to get two of his representatives elected to Herbalife's board and has spoken to management about a potential go-private transaction. This could spell big trouble for Pershing Square, which has also been getting crushed on its massive long position in struggling retailer J.C. Penney.
Although volatility in HLF subsequently died down in 2013 and the stock even underwent a small correction, the shares have recently broken out to new year-to-date highs. Over the last month, HLF has been moving up on a near-daily basis amid a blistering stock market and building skepticism about Ackman's research. On Tuesday, Herbalife shares were up well over three percent to $50.87 on heavy volume.
The rally coincided with an announcement that the company has hired a new auditor in PriceWaterhouseCoopers. The corporate move comes in the wake of KPMG's resignation as Herbalife's auditor in early April after a senior partner at the firm was charged with insider trading.
Longtime KPMG accountant Scott London allegedly passed inside information about a number of publicly traded companies to a friend who traded on the tips. The friend, Bryan Shaw, subsequently shared a portion his profits with the KPMG partner before being flipped by the Feds.
London was the senior partner in charge of audits for both Herbalife and Skechers USA (NYSE: SKX). The insider trading charges caused KPMG to resign from further work with the companies. Herbalife's hiring of PriceWaterhouseCoopers shows that the company is putting its unintended involvement with the insider trading accusations at KPMG behind it.
As the intense controversy surrounding Herbalife gradually subsides, the stock continues to look attractive. The company has an excellent track record as a cyclical growth story with sales expected to rise 12.60 percent in fiscal 2013 followed by an anticipated 10.30 percent rise in fiscal 2014. This growth comes on the heels of rising sales and net income in each of the last four years.
Nevertheless, the stock's valuation remains very conservative on account of the Ackman overhang. Shares are trading at a trailing P/E of under 12, a forward multiple of just over 9, and a PEG ratio of 0.62. In addition, HLF is yielding around 2.70 percent at current levels.
As the stock breaks out to new highs, investors and traders will want to watch for a further short-squeeze in Herbalife. Despite the general consensus that Pershing Square's thesis is flawed and the strong uptrend in the shares, Herbalife's short interest remains above 34 percent.
Using very rough calculations, it is thought that Pershing Square accounts for around 20 percent of the short float. Therefore, it is easy to surmise that a number of other large investors are also short the stock and could be ripe for a squeeze.
Although playing Herbalife from the long side is hardly a sure thing, currently the stars appear to be aligning for higher prices. At the very least, this is a set-up that deserves a closer look from investors and traders once again.
View Comments and Join the Discussion!
Posted-In: Long Ideas News Short Ideas Technicals Management Insider Trades Intraday Update Movers Best of Benzinga