A Look Ahead: This Week's ETFs to Watch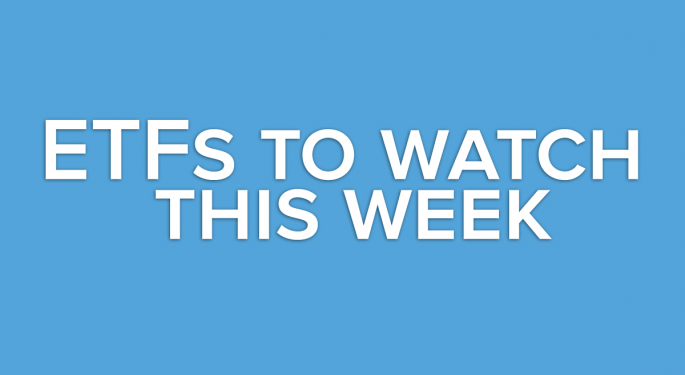 Against the backdrop of some strong earnings reports, a spate of interest rate cuts and other cheery news from global central banks, U.S. stocks again soared last week.
The S&P 500 added 1.2 percent while the Dow Jones Industrial Average climbed one percent. The Nasdaq Composite was the best of the three major U.S. indexes with a weekly gain of 1.45 percent. All of that indicates that risk appetite remains high and that the sell in May and go away should consider trying again in 2014.
This week has potential to be another interesting one, particularly with an economic data docket chock full of reports pertaining to the U.S. consumer. Here are some of the ETFs to keep an eye on this week.
SPDR S&P Retail ETF (NYSE: XRT) The high-flying SPDR S&P Retail ETF is book-ended by important data points this week. On Monday, the Commerce Department delivers retail sales for April. On Friday, the Thomson Reuters/University of Michigan initial reading of May consumer sentiment is due to be released.
Retail sales and employment data, the headlines that are arguably as relevant to an ETF such as XRT as corporate earnings, appear multiple times per month. That means there have been plenty of potential potholes for this ETF to overcome. XRT has done so with aplomb. XRT has surged 21.6 percent year-to-date and attracted $252.1 million of its $934.6 million in assets under management over that time.
CurrencyShares Australian Dollar Trust (NYSE: FXA) Non-yen currency ETFs do not often make appearances on this list, but the CurrencyShares Australian Dollar Trust is coming off an interesting week and that is to put things delicately. FXA fell 2.3 percent after the Reserve Bank of Australia pared interest rates to 2.75 percent from three percent. News that George Soros is short the Aussie did not help matters.
Nor did Stanley Druckenmiller's bearish comments on the currency. As of this writing Sunday evening, AUD/USD is trading below 1, or below parity. Should FXA close below 100 Monday, a prospect that seems likely, it will be the first time since July 2012.
During Monday's Asian session, the Australian Bureau of Statistics said home loan approvals there rose 5.2 percent in March, easily surpassing the expected increase of four percent and that was not enough to lift the Aussie. Not a good sign.
WisdomTree Japan Hedged Equity Fund (NYSE: DXJ) Speaking of currency ETFs, there is the ultra-popular WisdomTree Japan Hedged Equity Fund. During Monday's Asian session, USD/JPY traded above 102 for the first time since the 2008 collapse of Lehman Brothers. The Bank of Japan said said the country's M2 money supply rose 3.3 percent last month to JPY844.5 trillion. Economists expected an increase of 3.1 percent.
Japan's M3 money stock rose 2.6 percent to JPY1,142.0 trillion, topping the expected increase of 2.5 percent. L money stock increased 2 percent for the year to JPY1,480.2 trillion. Those data points certainly helped the yen lower as did the G-7 essentially saying it can tolerate the weak yen, at least for now.
DXJ's chart is strong, the yen is falling Japanese exporters, the often overlooked component of how this ETF delivers returns, are flourishing. This is a dangerous, difficult ETF to be short these days.
For more on ETFs, click here.
Posted-In: Long Ideas News Sector ETFs Broad U.S. Equity ETFs Short Ideas Specialty ETFs New ETFs Emerging Market ETFs Best of Benzinga
View Comments and Join the Discussion!