Johnson & Johnson's Quest to Knock Botox off the Pedestal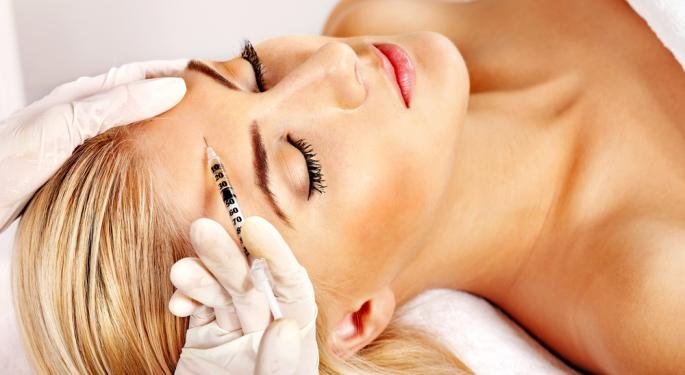 A recent report showed the holding company, Johnson & Johnson (NYSE: JNJ) seeking FDA approval next year for an anti-wrinkle drug that could dramatically push down Allergan's (NYSE: AGN) Botox from its 85 percent market share.
David Wilson, president of J&J's Mentor division is confident that the new product will meet the FDA's expectations, although they have yet to release the completed data from its late-stage trials.
"What we hope to offer is a product of certainly comparable quality to Botox...to basically be on par with them" in terms of effectiveness and safety," said Wilson
With less success, few other drug makers have previously attempted to push their way into this $900 million business. But analysts have positive outlooks for J&J's serious threat to Botox. Morningstar analyst Michael Waterhouse pointed out that, "[J&J] have a big marketing budget and sales force, and an attractive cosmetic portfolio."
Nevertheless, J&J's pursuit will not come easily. Users of Botox and similar products are expecting a drug that will work quicker and last longer, but at the same time be wallet friendly. As Allergan has already set a strong brand for Botox, patients who saw positive results from it may not be quick to switch to a new drug.
Since its approval in 2002, Botox has established a luxury product that attracted customers ranging from celebrities to the middle class. The drug worked by briefly paralyzing muscles, which can also be used to treat other medical issues such as migraine headaches and overactive bladder. Such cosmetic treatment is not cheap per se, as high as $1,500 for a full treatment of the face.
As one of the world's biggest healthcare company, J&J produces an annual sale of $70 billion. By making all the proper investments, J&J hope cosmetic seekers are willing to try something different. If their new product is not effectively different from Botox, J&J can distinguish it by making a cheaper drug.
If Johnson & Johnson's new product is tested and approved for medical conditions, it is likely that they will generate annual sales up to $500 million within five years and $1 billion in a decade. Most competitions will probability take place in Asia and South America, where Botox have not set a strong foothold.
With a trading price currently around $79 and EPS of $3.86, J&J is nevertheless a worthwhile investment for your portfolio.
Posted-In: Long Ideas News Short Ideas Entrepreneurship Futures Topics FDA Markets Best of Benzinga
View Comments and Join the Discussion!