Office Supply Merger Brings Out the Short Sellers (ODP, OMX, AVP)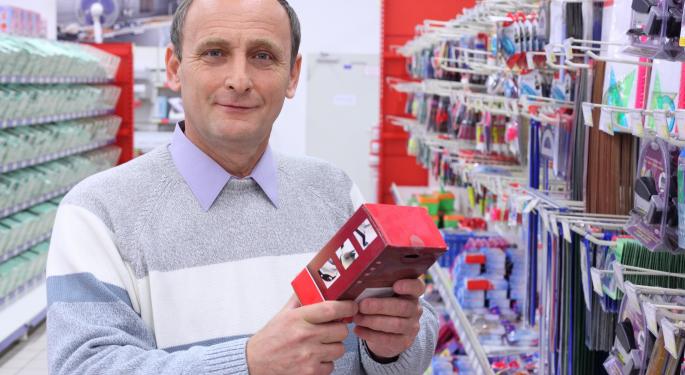 By and large, the short interest in troubled retail companies increased during the final two weeks of February.
The number of shares sold short in Barnes & Noble (NYSE: BKS), Bebe Stores (NASDAQ: BEBE), GameStop (NYSE: GME), J.C. Penney (NYSE: JCP), RadioShack (NYSE: RSH), Rite Aid (NYSE: RAD), Sears Holdings (NASDAQ: SHLD) and SuperValu (NYSE: SVU) increased between the February 15 and February 28 settlement dates.
However, short interest in Best Buy (NYSE: BBY), Pacific Sunwear (NASDAQ: PSUN) and Bon-Ton Stores (NASDAQ: BONT) declined during that time.
But the largest percentage swings in short interest between the February 15 and February 28 settlement dates happened to Office Depot (NYSE: ODP) and OfficeMax (NYSE: OMX), which recently announced plans to merge, as well as to Avon Products (NYSE: AVP).
Office Depot
Shares sold short in this office products purveyor jumped almost 58 percent in late February to 37.51 million, the highest level of short interest in at least a year. The daily volume was nearly 10 times that in the previous period. The short interest is now more than 13 percent of the float.
As mentioned above, this Boca Raton, Florida-based company plans to merge with OfficeMax, and it is also mulling the sale of its Mexico unit. Office Depot's market capitalization is about $1.1 billion. Its return on equity is in the red and it has no long-term earnings per share (EPS) growth forecast. The PEG ratio is lower than that of rivals OfficeMax and Staples (NASDAQ: SPLS).
All but three of the 18 analysts who follow the stock that were surveyed by Thomson/First Call recommend holding them. The mean price target, or where they expect the share price to go, indicates upside potential of about eight percent. However, shares have traded above that target several times this year.
Shares spiked to a 52-week high following the merger news. But the share price is now more than 16 percent higher year-to-date, as well as more than 70 percent higher than six months ago. The stock has narrowly outperformed OfficeMax over the past six months and has easily outperformed the S&P 500.
OfficeMax
Short interest in this specialty retailer rose more than 41 percent to 11.61 million shares by the end of February. The number of shares sold short here represents more than 13 percent of the float as well, and the daily average volume was also very heavy.
The big news in late February was the merger deal with Office Depot, and the companies said both CEOs would stay on as co-CEOs. OfficeMax has a market cap of about $1 billion. The price-to-earnings (P/E) ratio is much less than the industry average, and the return on equity is more than 53 percent.
Just five analyst of the 15 surveyed recommend buying shares, but none recommends selling. The share price has overrun their mean price target, though the most optimistic individual price target suggests there is almost 30 percent potential upside.
The share price is up more than 22 percent year to date, as well as more than 177 percent higher than a year ago. Over the past six months, the stock has outperformed competitors Staples and Walmart (NYSE: WMT), as well as the broader markets.
Avon Products
This beauty and personal care products purveyor saw short interest drop more than 42 percent in late February to 6.69 million shares. That was the lowest number of shares sold short since last June. Short interest is now less than two percent of the float, and days to cover is about one.
Much of the attention in late February was on the plans Avon's new chief executive has to turn the company around and restore it to its former glory. The company has a market cap of more than $8 billion and a dividend yield near 1.2 percent. The EPS growth forecast is more than 20 percent, but the return on equity is in negative territory.
Of the 14 analysts polled, just four recommend buying shares; the rest recommend holding them. But their mean price target is more than nine percent higher than the current share price. However, that target is less than the 52-week high from last spring.
Though the share price has retreated since spiking in early February, it is still up more than 34 percent year-to-date. The stock has outperformed Procter & Gamble (NYSE: PG) but underperformed Revlon (NYSE: REV) over the past six months.
Posted-In: Avon Products Barnes & Noble bebe StoresLong Ideas M&A News Short Ideas Trading Ideas Best of Benzinga
View Comments and Join the Discussion!