Benzinga's M&A Chatter for Tuesday February 19, 2013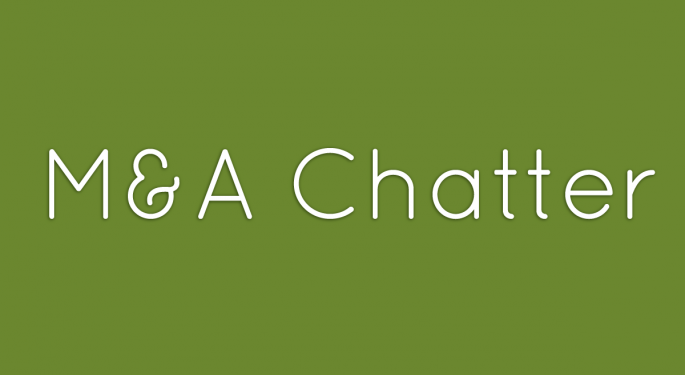 Audley Capital Proposes New Board Members for Walter Energy
The Investor Proposal:
Walter Energy (NYSE: WLT) shares higher Tuesday, after Audley Capital Advisors announced that a related Audley investment fund recently notified Walter Energy (NYSE: WLT) that it will nominate five candidates for election to the Company's board of directors at its upcoming 2013 Annual Meeting of Shareholders. The following are the M&A deals, rumors and chatter circulating on Wall Street for Tuesday February 19, 2013:
The five candidates are Eddie Scholtz, Mark Lochtenberg, Robert Stan, Lawrence Clark, Jr. and Julian Treger.
Audley Capital announced on July 18, 2011, that it had urged the Walter Energy Board to explore a sale of the company.
Walter Energy confirmed that Audley European Opportunities Fund, an affiliate of hedge fund Audley Capital Advisors, sought to advise the Company of its intent to nominate a slate of five director candidates to stand for election at the Company's 2013 Annual Shareholders Meeting.
Walter Energy closed at $39.96 Tuesday, a gain of 5% on 2.5 times average volume.
OfficeMax, Office Depot Reportedly in Advanced Merger Talks
The Rumor:
Shares of Office Depot (NYSE: ODP) and OfficeMax (NYSE: OMX) rose on a report by the Wall Street Journal that the two companies are in advanced merger talks.
An OfficeMax spokesperson declined comment on the report. An Office Depot spokesperson was not available for comment.
OfficeMax closed at $13.00 Tuesday, a gain of almost 21% on 11 times average volume. Office Depot closed at $5.02 Tuesday, a gain of 9% on 16 times average volume.
Alpha Natural Resources Cancels Analyst Day
The Rumor:
Alpha Natural Resources (NYSE: ANR) announced cancellation of their analyst day on Tuesday. The event had been scheduled for March 15, 2013 in New York City.
A spokesperson for Alpha Natural Resources said the company had nothing new to report following their Q4 and FY 2012 call. Also, there was a conflict with ArcelorMittal's (NYSE: MT) analyst day event. Many of the same analysts cover both companies. At this time, Alpha Natural Resources has not decided to reschedule the event.
Alpha Natural Resources closed at $9.50 Tuesday, a gain of $0.02 on average volume.
JP Morgan Says Cummins Takeover of Westport Innovations Unlikely
The Analyst Note:
A note from JP Morgan says last week's rumored takeover by Cummins (NYSE: CMI) of Westport Innovations (NASDAQ: WPRT), is highly unlikely.
The two companies already have the Cummins Westport joint venture, which designs, engineers, and markets 6 to 12 litre spark-ignited automotive natural gas engines for commercial transportation applications, such as truck and buses.
A spokesperson for Westport Innovations declined comment. A Cummins spokesperson was not available for comment.
Westport Innovations closed at $31.74 Tuesday, a gain of $0.20 on twice average volume.
Hearing Renewed Chatter of GE Bid for Joy Global
The Rumor:
Joy Global (NYSE: JOY) was once again the subject of takeover chatter on Tuesday with GE (NYSE: GE) the rumored buyer once again. The two companies are reportedly in final negotiations for a deal at $76 per share, according to sources.
GE has been frequently mentioned as a potential buyer for Joy Global. A note from William Blair in September 2012, mentioned GE as a "likely" buyer.
Spokespersons for GE and Joy Global declined comment on the rumor.
Joy Global closed at $63.54 Tuesday, a gain of 1% on 1.5 times average volume.
TSYS to Acquire NetSpend for $16/Share in Cash
The Deal:
TSYS (NYSE: TSS) and NetSpend (NASDAQ: NTSP) announced Tuesday that they have entered into a definitive agreement pursuant to which TSYS will acquire NetSpend in an all cash transaction valued at approximately $1.4 billion. Under terms of the agreement, NetSpend shareholders will receive $16.00 in cash for each share of NetSpend common stock. The transaction is expected to close in mid-2013.
NetSpend closed at $12.29 Tuesday, but traded at $16.00 after-hours.
Posted-In: Long Ideas News Short Ideas Rumors M&A Global After-Hours Center Movers
View Comments and Join the Discussion!