Benzinga's M&A Chatter for Thursday February 14, 2013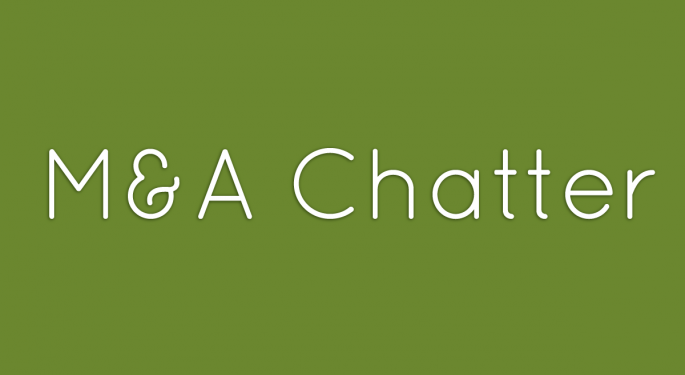 The following are the M&A deals, rumors and chatter circulating on Wall Street for Thursday February 14, 2013:
Heinz to Be Acquired by Berkshire Hathaway, 3G Capital for $72.50/Share
The Deal:
H.J. Heinz (NYSE: HNZ) announced Thursday that it has entered into a definitive merger agreement to be acquired by an investment consortium comprised of Berkshire Hathaway and 3G Capital.
Under the terms of the agreement Heinz shareholders will receive $72.50 in cash for each share of common stock they own, in a transaction valued at $28 billion. The transaction is subject to approval by Heinz shareholders, receipt of regulatory approvals and other customary closing conditions, and is expected to close in the third quarter of 2013.
H.J. Heinz closed at $72.50 Thursday, a gain of 20% on 38 times average volume.
Anheuser-Busch InBev, Constellation Brands Announce Revised Agreement for Complete Divestiture of Grupo Modelo's US Business
The Revised Agreement:
Anheuser-Busch InBev (NYSE: BUD) and Constellation Brands (NYSE: STZ) announced Thursday, a revised agreement that establishes Crown Imports as the #3 producer and marketer of beer in the U.S. through a complete divestiture of Grupo Modelo's U.S. business. The transaction establishes Crown as a fully owned entity of Constellation, and provides Constellation with independent brewing operations, Modelo's full profit stream from all U.S. sales, and rights in perpetuity to the Grupo Modelo brands distributed by Crown in the U.S.
As part of AB InBev's acquisition of the 50% of Grupo Modelo it does not already own, AB InBev has agreed to sell Compania Cervecera de Coahuila, Grupo Modelo's state-of-the-art brewery in Piedras Negras, Mexico, and grant perpetual brand licenses to Constellation for USD 2.9 billion, subject to a post-closing adjustment. As previously announced on June 29, 2012, AB InBev has agreed to divest Grupo Modelo's 50% stake in Crown, the joint venture between Modelo and Constellation, that currently imports and markets Modelo's brands in the U.S., to Constellation. The transaction value remains USD 1.85 billion, providing Constellation 100% ownership and control of Crown.
Constellation Brands closed at $43.75 Thursday, a gain of 37% on 16 times average volume.
Artio Global Investors to be Acquired by Aberdeen Asset Management for $2.75/Share
The Deal:
Artio Global Investors (NYSE: ART) announced Thursday that it has entered into an agreement and plan of merger with Aberdeen Asset Management, pursuant to which Aberdeen will acquire Artio Global for $2.75 in cash per share. The transaction is expected to close by the end of the second quarter or early in the third quarter of 2013.
Artio Global Investors closed at $2.74 Thursday, a gain of 33% on 58 times average volume.
Endeavour International to Review Strategic Alternatives
The Strategic ReviewEndeavour International Corporation (NYSE: END) announced Thursday that its Board of Directors has authorized the Company's management team to explore a broad range of strategic alternatives to further enhance shareholder value. Tudor, Pickering, Holt & Co. and Lambert Energy Advisory Ltd. have been engaged as the Company's financial advisors in this process.
Endeavour will consider a full range of options, including a sale or merger.
Endeavour International closed at $3.55 Thursday, a loss of 28% on 7 times average volume.
American Airlines, US Airways Boards Approve Merger
The Merger:
AMR Corporation (OTC: AAMRQ), the parent company of American Airlines and US Airways Group (NYSE: LCC) announced Thursday that the boards of directors of both companies have unanimously approved a definitive merger agreement under which the companies will combine to create the new American Airlines. The carrier will have an implied combined equity value of approximately $11 billion based on the price of US Airways' stock as of February 13, 2013.
Under the terms of the merger agreement, US Airways stockholders will receive one share of common stock of the combined airline for each share of US Airways common stock then held. The aggregate number of shares of common stock of the combined airline issuable to holders of US Airways equity instruments (including stockholders, holders of convertible notes, optionees and holders of restricted stock units) will represent 28% of the diluted equity of the combined airline. The remaining 72% diluted equity ownership of the combined airline will be issuable to stakeholders of AMR and its debtor subsidiaries that filed for relief under Chapter 11 (the "Debtors"), American's labor unions, and current AMR employees. The combination is expected to be completed in the third quarter of 2013.
US Airways closed at $13.99 Thursday, a loss of 4.5% on 5 times average volume.
Carl Icahn Takes Almost 13% Stake in Herbalife
The 13-D Filing:
Investor Carl Icahn reported in a 13-D filing Thursday, that he had taken a 13% stake in Herbalife (NYSE: HLF). Icahn reports that he intends to have discussions with Herbalife management "regarding the business and strategic alternatives to enhance shareholder value, such as a recapitalization or a going-private transaction."
Herbalife closed at $38.27 Thursday and traded over $45 after-hours.
Posted-In: Long Ideas News Short Ideas Rumors Hedge Funds Movers & Shakers Insider Trades M&A
View Comments and Join the Discussion!