Engage, Learn and Network at the After the Bell Panel Forum in London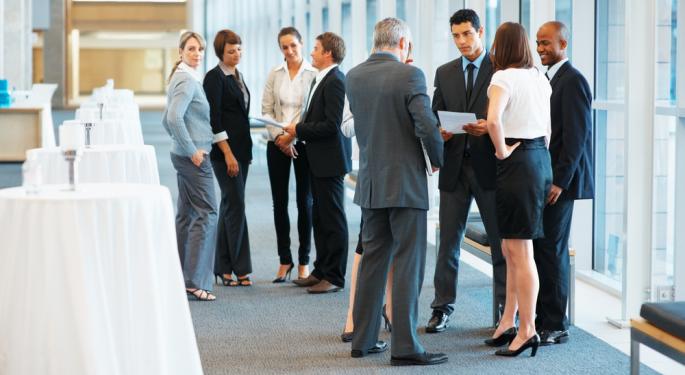 Every year, thousands of traders travel to various conferences with the hope of gaining valuable information about the markets. Most of them are large, inefficient and overcrowded.
This is where the After the Bell Panel Forums differ from the norm. Produced by The Mankoff Company, the After the Bell Panel Forums are designed to be thoughtful, intimate events that allow traders and industry professionals to make a genuine connection.
"The format works extremely well because you're not pulling anybody away from their desk during the day," Stacey Mankoff, Managing Principal of The Mankoff Company, told Benzinga. "It's after trading hours."
Mankoff said that After the Bell focuses on topics specifically for the trading community. "We have representation from practitioners from traders, as well as consultants and what we call solution providers or technology providers, so that they could be a law firm, an exchange, one of your big data firms, one of your platform firms -- any company that's providing technology to the trading community," she said.
"The upcoming event addresses the FX trading landscape. We're doing that in London on March 21 and we'll be doing a similar event April 24 in New York on similar subjects."
After the Bell's format is very straightforward.
"We make it so that there are two panels and then a networking reception, and the panels -- we don't allow sales pitches," said Mankoff. "They're very high-level discussions, and that's why we get people coming back to our events, and why we're able to get new people and our reputation keeps growing -- because these are high-level discussions of the most topical issues."
Attendees can look forward to a discussion on regulations.
"One of the panels will be addressing regulations that will be coming down the pipe," said Mankoff. "That's always a constant challenge for both the London and the New York events: you have the issue of inconsistencies between U.S. and European interpretations of legislation. How does the trader deal with that? They can't just… They have to be able to adhere to regulations all around. It's a very complex situation.
"You're also dealing with what happens when there's a big, global, economic shift, like Greece defaulting or problems in Spain or something in Asia. How do you be nimble enough to go with the flow and to still succeed when you're dealing with these in your daily trading activity?"
And that's not all the panel has to offer.
"We talk about opportunities that might be available," said Mankoff. "[At the London event] we'll address opportunities in China.
"We talk about the different technology developments that have been going on in the trading community -- the connectivity issues. When you're dealing with so many different markets, there's the need for speed. We talk about high-frequency trading."
Looking ahead, Mankoff said that everything is moving toward high-frequency trading. "We're not going back to the pits where someone calls for an order and that sort of thing," she said. "Everything is computerized now. I don't know how much faster it can get, but I can't imagine it going slower.
"When you're dealing with that, when you have to trade quickly, you have to trade accurately. So you have to minimize your risk but maximize your return. There's also now the amount of data, big data, that firms need to process. How do you handle all that? How does FX meet that challenge?"
"Then," Mankoff added, "There's the cloud and utilizing the cloud for FX trading and other asset classes as well. What does that mean? How can you use it effectively? Also, how do you address the security issue?"
Benefits of Attending
"The benefit, besides hearing from high-level practitioners (who are very open about it), we don't record our events," said Mankoff. "People always say, 'Can you send us the transcript? Can you send us the recording?' No, because we want to keep it a free discussion. We don't want anybody to be inhibited in their discussion. It's not that we don't have press there, because we do, but I think it's a little more intimidating when you see a camera going at you, and I think people think twice before they speak when they see a camera.
"Again, this allows for interaction and meetings. We're not a huge trade show. We usually have between 50 and 125 people, depending on where the event is and the time of year, so it allows for an exchange of ideas.
"After every panel, we do have a Q&A session so that people can ask directly to the panelist certain points -- or make a point. Following the panel we have a networking reception. That also allows for an exchange of ideas in a more relaxed atmosphere. And because it's not a huge trade show, it's much more intimate."
Follow me @LouisBedigianBZ
Posted-In: After the Bell Panel ForumLong Ideas News Short Ideas Events Success Stories Trading Ideas General Best of Benzinga
View Comments and Join the Discussion!