Abe's Tough Talk Could Weaken Yen Further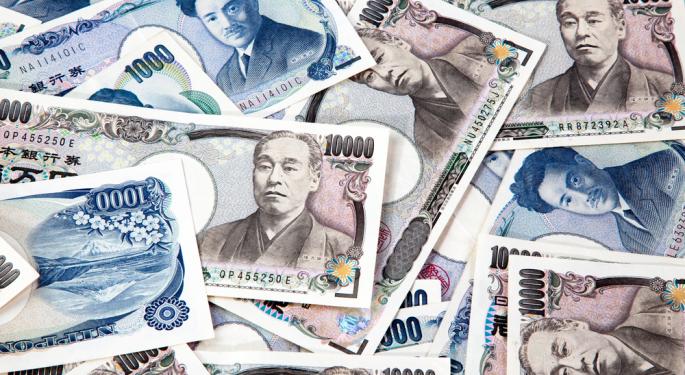 After crossing the 90 level during Friday's Asian session, the U.S. dollar is holding onto its gains against the Japanese yen in U.S. trading today. The pair traded as high as 90.21 earlier today, meaning it took that many yen to purchase $1, and the Japanese currency is now within spitting distance of a 31-month low against the greenback.
This might be one example of political rhetoric actually having a positive impact on financial markets. New elected Japanese Prime Minister Shinzo Abe made tough talk regarding a weaker yen a cornerstone of his campaign and that proved to be a wise strategy. In mid-December, Abe cruised to victory while his Liberal Democratic Party swept to a majority in Japan's lower house of parliament.
All the while the yen has been decimated against the greenback. The dollar is up 3.7 percent against the yen in 2013. In the past month, the ProShares UltraShort Yen (NYSE: YCS) has gained 13.5 percent and more downside could be on the way for the yen if Abe has his way.
"Abe has been relentless in a multi-pronged approach to weaken the yen," said WisdomTree Research Director Jeremy Schwartz in a note. "He has called for targeting inflation of 2%, set an aggressive nominal GDP growth target, threatened to change the Bank of Japan's (BOJ) mandate (and has the power to do so) and discussed introducing more fiscal stimulus measures as well as the creation of a large investment fund to buy foreign bonds (to weaken the yen even more). Thus far, the yen has weakened versus the U.S. dollar strictly in anticipation of all these measures, as each of them will take time to be implemented."
Abe has pushed the Bank of Japan to engage in unlimited monetary easing and has even threatened to revoke a Japanese law guaranteeing the central bank's independence if it does align its inflation target with his. The prime minister wants to see Japanese inflation of at least two percent per year and it is widely expected BoJ will oblige when it meets next week. BoJ's current inflation target is one percent.
Citing Bloomberg data, Schwartz notes "Japan's five-year estimated inflation rate is just over 83 basis points." That rate was far worse early last year.
"Earlier in the 2012 calendar year, Japan's estimated five-year inflation rates were a negative 60 basis points—meaning that investors in five-year government bonds collectively expected price levels in Japan to fall approximately 60 basis points per year for five years," said Schwartz.
Still, Abe has been able to affect yen depreciation as much through rhetoric as through realized policy initiatives. Perhaps even more so and the results have been positive for equity-based Japan ETFs. Since it became clear that Abe was running for Japan's highest office in mid-November and following his win last month, an array of Japan-focused ETFs have surged.
The SPDR Russell/Nomura PRIME Japan ETF (NYSE: JPP), the MAXIS Nikkei 225 Index ETF (NYSE: NKY) and the iShares MSCI Japan Index Fund (NYSE: EWJ) have all delivered solid returns. However, the star of the Japan ETF group has been the WisdomTree Japan Hedged Equity Fund (NYSE: DXJ).
Not only does DXJ track an index that screens out companies that are dependent on the still flailing Japanese economy for the bulk of their revenue, but the fund features hedges USD/JPY fluctuations. In other words, the current environment of yen weakening and appreciation in Japanese equities has bolstered the allure of DXJ.
And its returns. Over the past month, the ETF has surged over 12 percent compared to a gain of 4.8 percent for EWJ. The ETF's assets under management growth has been stunning. DXJ had $516 million in AUM in early December. As of January 17, that number had swelled to $1.6 billion, according to WisdomTree data.
More upside for DXJ and its rivals could be on the way as sentiment drives more yen downside.
"I believe much of the yen's strength over the last five years was not caused by true fair value of the yen appreciating—much of it was sentiment driven," said Schwartz. "With sentiment having now changed dramatically, I would not be surprised to see the yen ultimately overshoot back above 100 yen to the U.S. dollar. There will be volatility in the near term, as the market trades on each statement from Japan's policy makers about how close they are to accomplishing their mission to weaken the yen. But I believe it is clear the period of relentless yen appreciation we saw prior to Abe's election is over."
For more on Japan ETFs, click here.
Posted-In: Long Ideas News Short Ideas Specialty ETFs Currency ETFs Forex Events Global Best of Benzinga
View Comments and Join the Discussion!