Home Builders: No; Mortgage Service Providers: Yes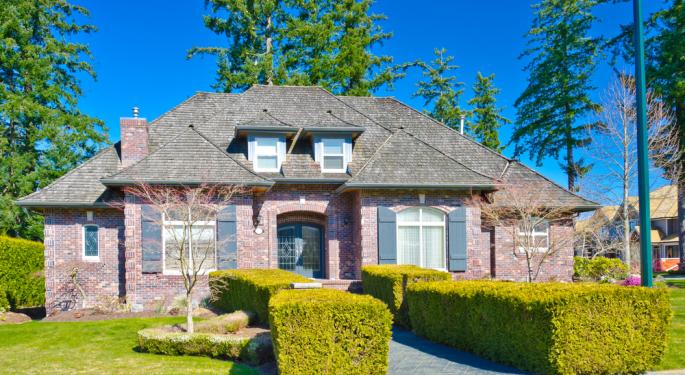 Housing stocks were in the news again Thursday, and rightly so on news that December housing surged 12.1% to 954,000 units, the highest level since June 2008.
It's tough not being in the home builder trade that's been working so well for so long. Right now, weekly charts for high-quality names like Lennar (NYSE: LEN), Ryland (NYSE: RYL) and PulteGroup (NYSE: PHM) reveal extended stocks where a lot of good news has been priced in quickly. The one exception is Meritage Homes (NYSE: MTH) which continues to set up in decent base that could eventually yield a breakout, although the fact that it hasn't broken out yet arguably makes it a laggard in the group.
If you missed the move in the builders, don't fret. The mortgage servicers still look good.
Big banks have been selling servicing rights to "special servicers" like Ocwen Financial (NYSE: OCN) and Nationstar Mortgage Holdings (NYSE: NSM)
Earlier this month, Nationstar paid $1.3 billion to Bank of America for $215 billion in mortgage servicing assets. In October, Ocwen won court approval to buy $350 billion of mortgage-servicing rights from bankrupt ResCap for $3 billion Mortgage servicers not only process monthly payments but they also deal with delinquent mortgages.
Another name in the group -- Walter Investment Management (NYSE: WAC) -- invests in sub-prime, non-conforming and other credit-sensitive residential loans. Earlier this month, the company paid $519 million for a package of Bank of America loan servicing rights.
The common bond among all three? Bullish fundamentals and technicals. Ocwen Financial and Walter Investment Management continue to build nice bases. Nationstar, meanwhile, continues to hold gains smartly after its bullish gap up on January 7. All three show big earnings and sales growth in recent quarters with strong growth expected to continue.
Annual earnings at Ocwen Financial are expected to soar 86% in 2012 and 129% in 2013. Fourth-quarter earnings are due on around February 18.
At Nationstar Mortgage Holdings, full-year profit is seen rising 926% in 2012 and 68% in 2013. Fourth-quarter earnings are due on or around February 19.
Annual earnings at Walter Investment Management are expected to rise 72% in 2012 and 129% in 2013. Fourth-quarter earnings are due on or around March 4.
Stock chart: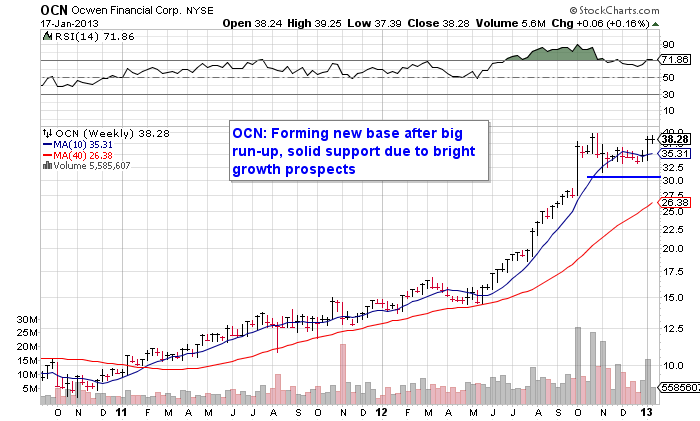 Posted-In: Long Ideas Markets Movers Trading Ideas Best of Benzinga
View Comments and Join the Discussion!