Three Stocks to Buy for Flu Season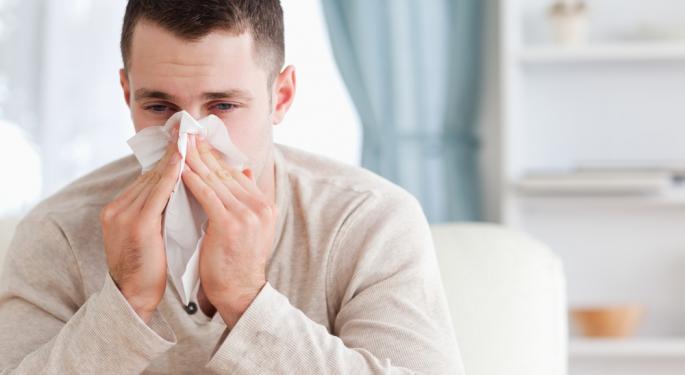 This flu season is shaping up to be one of the worst in recent memory. The CDC has described it as the earliest since 2003/2004. Over 2,200 Americans have been hospitalized and 18 have died. Overall, the CDC reports high flu activity in 29 states characterized by a H3N2 strain associated with severe flu season.
The flu bug is also packing a hard punch to America's northern neighbor. According to Sherwood Park News, hospitals in Calgary and Edmonton are experiencing capacity pressure due in part to the seasonal virus.
As the flu takes hold across America and beyond, investors may wish to rethink their portfolios by mixing in the following stocks:
Novavax (NASDAQ: NVAX)
Biopharmaceutical company Novavax could explode along with the current flu season. The Rockville, Maryland company focuses on developing flu vaccines and related products, making it a potential major player in healthcare over the coming weeks and months.
A key ingredient to this equation is the company's size. It is much smaller than top competitors Merck (NYSE: MRK) and Novartis (NYSE: NVS). As a result, it stands to gain a much larger boost in the market during this flu season.
To illustrate, Novavax rallied about 4.5 percent on Friday as widespread news reports pound the severity of the issue into the minds of Americans. Merck and Novartis are each up only under 1 percent.
Sinovac Biotech (NASDAQ: SVA)
Much like Novavax, Sinovac can benefit from its smaller size in comparison to traditional pharmaceutical giants. The Beijing company develops various vaccines, including some for the flu. A major flu season, which appears to be in process, could boost the company's stock price much more than the likes of the mentioned industry leaders in terms of percentage.
Of important note is that China is also dealing with flu issues. While not expected to be as bad as its been in previous years, officials anticipate a peak in cases over the coming weeks, as notes People's Daily Online.
This stock is up around 1.5 percent on Friday as of this writing and is up over 45 percent since mid-December.
Sanofi (NYSE: SNY)
Sanofi is a major player in the vaccination business and has risen nicely since the onset of flu season. After hovering in the $43-$45 range on most days between mid-September and early December, the stock has risen around 9 percent since word of the current flu season and its severity first broke on December 4.
The Paris company has posted better gains that the other mentioned industry giants thus far in Friday trading, as well. It is up over 1.2 percent in trading, likely on the up-tick in flu reports.
View Comments and Join the Discussion!
Posted-In: Long Ideas News Intraday Update Movers Trading Ideas Best of Benzinga