McDonald's: A Value Stock with Growth Potential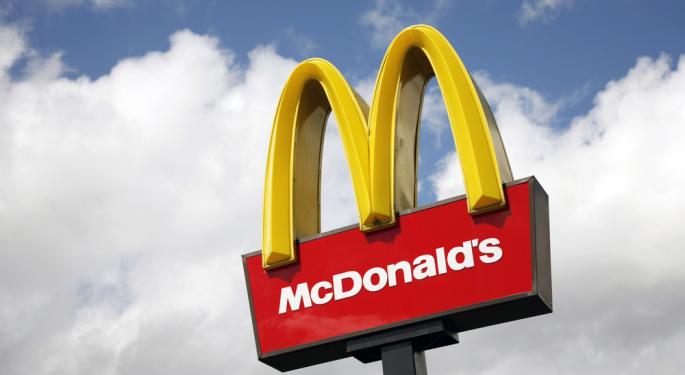 McDonald's (NYSE: MCD) has many attributes that should make it attractive to value investors while also offering the potential for growth due to an expanding international footprint.
The company might not meet the strict definition of a value stock in the tradition of Ben Graham, but as an investment, McDonald's possesses many of the qualities that Graham's famous adherent Warren Buffett looks for in companies.
McDonald's certainly is not a "cigar butt" stock as Graham liked to focus on, but it is not a name that value investors should overlook. This is particularly true of investors who follow Buffett's axiom that it is better to buy a great business at a fair price than a bad business at a rock bottom price. McDonald's has a number of qualities which make it an attractive investment for risk-averse value investors.
The company has a simple and straightforward business which is easy to understand. The simplicity of the business makes it much easier for investors to predict future revenues and cash flows and to get an idea of how the company will look five or ten years from now. The company has reported net income growth in each of the last five years and only experienced a slight decline in sales in 2009.
McDonald's also has a superior moat or competitive advantage due to its ubiquitous brand name. McDonald's is one of the strongest, most recognized brands in the world. Its brand positioning relative to competitors should allow the company to remain the top quick-service restaurant player in the industry for a long time.
Right now, the company is head and shoulders above its competition and there is little indication that this will change anytime soon. Buffett's investments in Anheuser-Busch (NYSE: BUD) and Coca-Cola (NYSE: KO) are good examples of companies which are similar to McDonald's due to their brand moat and leading market position.
On the financial side, not only does McDonald's throw off a respectable amount of cash every quarter because of its steadily maturing business and competitive advantage, but it also has room for strong international growth. The development of emerging and frontier markets should provide significant opportunity for McDonald's to expand its restaurant base.
The company also has a very strong management team which has a history of creating shareholder value. Over the last 10 years, the stock has climbed almost 431 percent which compared to a gain of just 62 percent for the S&P 500. Even more amazing is that the stock has been able to generate these type of returns while maintaining a defensive profile.
McDonald's was one of the best performers during the financial crisis as investors hid out in the name speculating that the company would benefit from the recession because of their low cost food. Not only can the company grow its top-line in good times, but it has a tendency to do well in bad times as well. This is an incredibly attractive property in any investment.
McDonald's current valuation is not exactly cheap. The stock trades at a trailing P/E of 17.20, a forward P/E of 15.83 and a PEG ratio of 1.99. The company is also yielding around 3.40 percent at current levels, which along with the company's history of increasing payouts, should support the stock price.
While this isn't inexpensive, it seems like a fair price to pay for such a high-quality investment and a company with a sterling long-term track record. Investors who are interested in quality, value, defensive properties, growth potential, and a franchise that has a history of creating shareholder value should take a look at McDonald's.
Posted-In: Ben Graham Warren BuffettLong Ideas Dividends Technicals Markets Trading Ideas Best of Benzinga
View Comments and Join the Discussion!