Dan Loeb's Third Point Capital Takes 8.2% Stake in Herbalife; SEC Opens Inquiry Into Company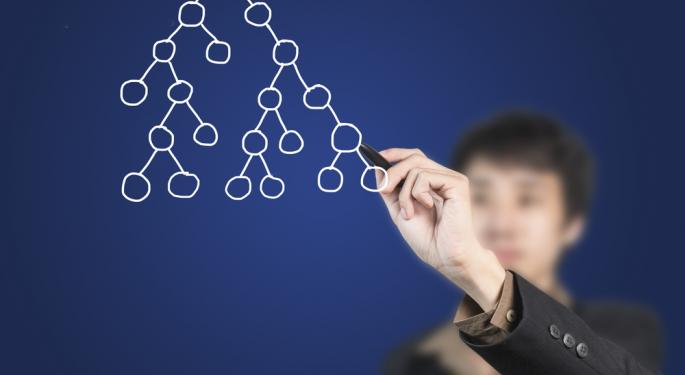 The Herbalife (NYSE: HLF) saga continued on Wednesday as famed hedge fund manager Dan Loeb's Third Point Capital revealed that it has acquired an 8.2 percent stake, valued at around $350 million, in the embattled multi-level marketing company.
Later on in the day, the SEC announced that it was launching an inquiry into Herbalife, which sells nutrition and weight-loss products through a network of third-party distributors.
For those unfamiliar with the back-story behind the stock, it has become the most controversial name on the New York Stock Exchange ever since hedge fund manager Bill Ackman revealed he was short more than $1 billion worth of HLF in December and called the company a "pyramid scheme." Ackman is the founder of Pershing Square Capital Management, a multi-billion dollar activist hedge fund.
Even prior to Ackman's short call, which was accompanied by a 342-slide PowerPoint presentation, Herbalife's business model had garnered scrutiny. In April 2012, the stock touched all-time highs above $70 on the back of prolific revenue and earnings growth driven in large part by expansion in international markets. At the end of April, however, famed short-seller and value oriented hedge fund manager David Einhorn asked Herbalife's management some pointed questions on an earnings conference call.
Although a short position has never been confirmed, the mere possibility that Einhorn was sniffing around the company spooked the market. The stock subsequently fell under $50 where it remained in a range until Ackman's short attack in December.
On December 20, Bill Ackman gave a three hour presentation on his short thesis for Herbalife at the Ira Sohn Investment Conference which triggered a series of steep daily declines in the shares. The stock bottomed out at $25 on December 24 and has been steadily rising ever since as analysts and other investors have questioned the validity of Ackman's argument.
Herbalife also defended itself vigorously against the accusations. The company's CEO Michael Johnson accused Bill Ackman of "blatant market manipulation." He added that "This appears to be another attempt to illegally manipulate the market by a group of short sellers." On the company's investor relations website, Johnson also provides a detailed rebuttal to the short-seller's attacks in a video.
In addition, Herbalife hired boutique investment banking firm Moelis & Company and law firm Boies, Shiller & Flexner to defend itself while also publicly disclosing that it has $950 million left on its existing share buyback authorization, which ostensibly will be used to purchase stock at the current depressed valuation. On Thursday, January 10th, Herbalife will be holding an analyst and investor meeting in New York to specifically address Bill Ackman's allegations against the company.
Now activist hedge fund manager Dan Loeb, who happens to be a friend of Bill Ackman, has stepped into the fray. When the news was announced, the Wall Street Journal proclaimed "One thing is clear about the financial showdown shaping up between Wall Street gunslingers William Ackman and Daniel Loeb: Someone is probably going to lose a whole lot of money."
The two money mangers views of Herbalife are in stark contrast to say the least. While Ackman has said his price target for the stock is "$0," Loeb told Third Point investors that he thinks the stock can trade between $55 and $68, maybe higher.
He wrote that "The pyramid scheme is a serious accusation that we have studied closely with our advisors. We do not believe it has merit. The short thesis rests on the notion that the FTC has been asleep at the switch, missed a massive fraud for over three decades, and will shortly awaken (at the behest of hedge fund short seller) to shut down the Company. We find this thesis to be preposterous, particularly since the FTC has been sensitive to frauds of this kind.
Loeb also noted that the FTC has received fewer than 40 complaints per year against the company and that "we find it hard to believe the short seller's theory that hundreds of thousands of people who have been scammed supposedly are too ashamed to speak up."
The Third Point founder argued that if the company were to deploy its $950 million buyback authorization in the $40-45 range, Herbalife's run-rate earnings per share for 2013 could be $5.50-5.70 using the reduced share count. By applying a 10-12x earnings multiple, which is well below HLF's historic multiple, the shares should trade between $55-$68 or even higher.
Loeb also pointed to Thursday's analyst day and the large short interest in the stock as further potential upside catalysts. According to the investment letter, Third Point built most of its position in Herbalife after Ackman went public with his short bet.
"The goal of our Dec. 20 presentation was to shine a spotlight on the company so that the world better understands the facts about Herbalife," said Mr. Ackman in a statement Wednesday. "The outcome of this investment is not about Pershing Square or anyone else who is long or short the stock. To the extent another investor, long or short, brings additional sunlight to the situation, we welcome them."
Speaking about the hedge fund battle royale, Gregg Hymowitz, founder of the $8.2 billion EnTrust Capital, told the Wall Street Journal that "One of them is going to be very wrong. Ackman thinks it's a complete and utter fraud, and Dan thinks it's a completely legitimate business." According to the Journal, Mr. Hymowitz is a longtime investor in both Pershing Square and Third Point.
Last Thursday, fund manager Robert Chapman posted a compelling argument as to why he decided to make a huge bet on Herbalife. The key to his thesis for the investment is that he believes Bill Ackman went public with his short crusade because he came to the realization that the FTC would not take action against the company. On Wednesday, Chapman told the Wall Street Journal that "This is shaping up to be potentially the bloodiest hedge-fund battle of all time."
Adding intrigue to the situation are published reports that the Securities and Exchange Commission has launched a probe into the company. The original report appeared in the Wall Street Journal which cited an unnamed source close to the inquiry. Herbalife shares, which had been rising on Wednesday, briefly plunged on the news but quickly recouped most of their losses. On the day, the stock rose a little better than 4 percent and closed at $39.95 heading into Thursday's key analyst meeting.
Posted-In: Long Ideas News Hedge Funds Movers & Shakers Psychology Legal Management Events Best of Benzinga
View Comments and Join the Discussion!