Jamba Juice and Krispy Kreme: Two Takeover Targets?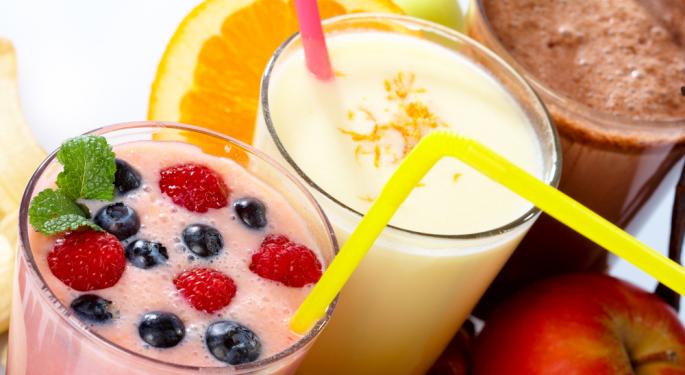 In an article published Monday, Bloomberg points to Krispy Kreme (NYSE: KKD) and Jamba Juice (NASDAQ: JMBA) as takeover targets.
Citing a recent string of takeovers in the same sector, Bloomberg argues that both companies provide strong consumer appeal that may attract buyers. The logic is simple: Both companies are heavy hitters in the doughnut and smoothie businesses, respectively, and coffee houses and restaurants could boost their product offerings by purchasing the companies.
In particular, Bloomberg calls attention to Starbucks (NASDAQ: SBUX) as a potential buyer of Jamba. According to Bloomberg, Starbucks (NASDAQ: SBUX) could be interested in buying the California beverage maker if its Evolution Fresh brand doesn't gain steam fast enough.
As for Krispy Kreme, it could be attractive to fast food companies.
Of particular note is Wendy's (NASDAQ: WEN). According to Bloomberg, the Dublin, Ohio company may be interested in boosting its morning selection to compete with McDonald's (NYSE: MCD) breakfast menu. As consumers typically don't want a burger for breakfast, a popular Krispy Kreme doughnut along with coffee could generate additional sales early in the day.
As Bloomberg notes, coffee bean prices have been declining, including a 37 percent drop in 2012, which adds to the appeal of a purchase.
Yet, the market doesn't seem sold on the idea, at least in regards to Krispy Kreme. From late November through early January, Krispy Kreme performed very well. However, after reaching a 52-week high of $11.18 on Friday, the Winston-Salem, North Carolina company's stock is down nearly 4 percent in trading on Monday and has fallen well below $11. Meanwhile, Jamba is up over 1 percent in trading on Monday, perhaps as investors express mixed faith in the takeover talk.
Interestingly, the article notes that both Starbuck's and Wendy's declined comment on their potential interest in the mentioned purchases. While some speculators may take the absence of a declination of interest as an indication of a possible move, neither company has expressed any concrete interest at this time.
It would be foolish to absolutely deny any interest in such companies, as the situation could change down the line, even if there is no interest at the moment. In other words, it's anybody's guess whether or not this will all pan out.
Whether the takeover talk is all hype or accurate will become increasingly obvious over the coming months.
Posted-In: Long Ideas News M&A Intraday Update Movers Media Trading Ideas Best of Benzinga
View Comments and Join the Discussion!