Obscure China ETF Bolstered by RQFII News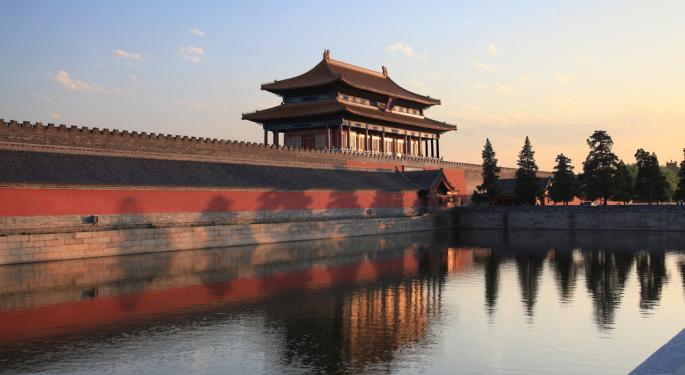 By now, many traders and investors know that China ETFs have bounced back in a big way due to a steady stream of encouraging economic data points. The recent batch of economic data releases, for the most part, indicate the world's second-largest economy is turning around, buoying hopes for increased commodities demand and a global turnaround in the process.
However, one China-specific ETF is soaring higher, and it is a name that might catch investors by surprise. As has been previously noted, investors are often seduced by the iShares FTSE China 25 Index Fund (NYSE: FXI) because of that ETF's heft. With over $7.5 billion in assets under management, FXI is by far the largest China ETF.
And FXI has been an impressive performer over the past month, having soared 10.46 percent. That is a stellar run and one that trumps the stout returns offered over the same time frame by the Guggenheim China Small-Cap ETF (NYSE: HAO) and the SPDR S&P China ETF (NYSE: GXC), just to name two. Yet those China ETFs and scores of others have recently paled in comparison to the gains offered by the Market Vectors China ETF (NYSE: PEK).
Last month, Benzinga reported that PEK could be in for a pop on news the China Securities Regulatory Commission, the People's Bank of China and the State Administration of Foreign Exchange agreed to increase the quota for the Renminibi Qualified Foreign Institutional Investor (RQFII) program to $32 billion from just over $11 billion.
The reason being is that PEK, through the use of swaps and other derivatives, tracks China's A shares market. Previously, the RQFII rules have required international investors to keep most of their holdings in bonds, but with stocks listed on China's mainland rebounding, global investors are clamoring for increased access to Chinese equities denominated in yuan.
RQFII funds, which raise yuan overseas, could benefit as China relaxes or abolishes the rules forcing those investors to be primarily invested in Chinese bonds, Bloomberg reported last week. Those headlines sent the CSI 300 Index, the Index tracked by PEK, soaring.
Earlier this year, the China Securities Regulatory Commission boosted the quotas for qualified foreign institutional investors to $80 billion from $30 billion, news that prompted a modest bump higher for PEK.
Investors have taken note of the benefits offered by PEK as China moves to, albeit slightly, open its A shares market to foreigners. In mid-November, the ETF had just $11.9 million in AUM. As of December 17, that total was closer to $28 million.
There is one issue investors need to be aware with PEK. "PEK is currently trading at a premium to its net asset value. A sustained premium can result in additional tracking error and/or potential losses upon sale," according to Market Vectors.
The reason why this ETF often trades at a premium to its net asset value is not a function of its ability or inability to create or redeem shares. Rather, PEK has to enter into swap agreements with banks and the banks charge a higher premium on the swaps to hedge their own risk because China's A shares market is still not widely accessible.
Credit Suisse (NYSE: CS) is the counter party for all of PEK's swaps.
For more on China ETFs, click here.
Posted-In: Long Ideas News Short Ideas Specialty ETFs Emerging Market ETFs Events Global Intraday Update Best of Benzinga
View Comments and Join the Discussion!