Egypt ETF Barely Higher After Morsi Revokes Decree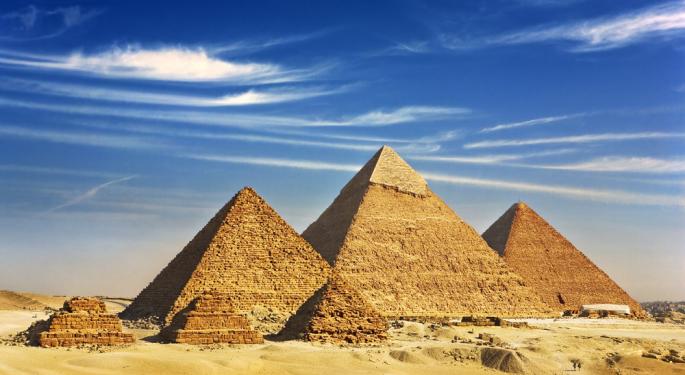 Shares of the Market Vectors Egypt ETF (NYSE: EGPT) are barely trading to the upside in midday trading Monday even after Egyptian stocks soared over the weekend. News that Egyptian President Mohammed Morsi revoked the judicial decree that touched off a rash of protests and sent Egyptian stocks tumbling in late November sparked a rally in the country's equity market on Sunday.
However, the carry-over to EGPT in U.S. trading today has been minimal as the ETF is currently higher by just five cents at $12.67 and has traded in a tight range of 17 cents. That could indicate Egypt bulls have tired of the North African nation's penchant for political volatility and are perhaps taking a wait-and-see approach to EGPT.
In late November, Egyptian equities and EGPT itself plunged after Morsi granted himself wide-ranging judicial powers that essentially rendered Egypt's court system useless. News that Morsi had revoked that decree came amid mounting protests from the president's opposition, who say Egypt is drafting a new constitution that favors Islamic fundamentalists, Bloomberg reported.
EGPT's tepid Monday performance could be a sign the ETF has more yet-to-be-realized near-term downside. The ETF, previously one of the top-performing emerging markets funds this year, has plunged almost 13 percent in the past month. In the past three months, EGPT has lost 15.6 percent.
What seems to be going unnoticed is that EGPT's recent woes have sent the ETF into a bear market. EGPT has fallen just over 20 percent from its 52-week high of $15.99 set in October. Technical analysts believe that securities that fall 20 percent from a previous high have entered bear market territory. Further evidence exists in the form of EGPT residing more than five percent below its 200-day moving average.
Bottom line: EGPT is barely higher a day after some of its largest holdings surged in Cairo trading and that is not a good sign.
For more on Egypt and ETFs, click here.
Posted-In: Long Ideas News Short Ideas Emerging Market ETFs Technicals Politics Events Global Best of Benzinga
View Comments and Join the Discussion!