Regal Shares Trip Over Hobbit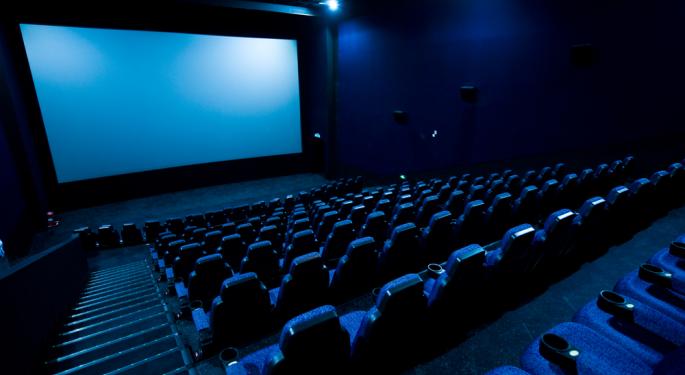 Regal Entertainment Group (NYSE: RGC) shares are sharply lower following a downgrade by Piper Jaffray before market open on Friday. Senior Analyst James Marsh lowered his rating on Regal from Overweight to Neutral because the shares had reached his price target of $16.00.
Marsh wrote, "While we continue to like the Regal story, valuation looks relatively full to us in the face of decelerating fundamentals and many company-specific catalysts already announced (announced special dividend, acquisition of Great Escape Theatres); accordingly, we may see a better entry point during 2013 when box office trends show signs of acceleration."
Marsh joins a number of other analysts who have recently downgraded Regal to Neutral, including Macquarie, JP Morgan Chase and Credit Suisse, according to Daily Political.
Although none of the analysts surveyed have Regal Entertainment Group rated as a Sell, all of them are concerned that poor reviews of The Hobbit may hurt the box office for this expensive feature. "Current reviews for the film are decidedly mixed and we have lowered our expectations for the full run of the film from $360M to $300M and are modeling 65% of the full run to be captured in Q4," Marsh said. "Middle-earth fanboys will still flock to this film, but its length and slow pace might dissuade the breadth of audience necessary to crack $300M."
Still, Marsh does expect fourth quarter box office receipts for the movie theater industry as a whole to be up by 13 percent although actual attendance will be up by only nine percent because of a higher proportion of more expensive 3D movie ticket sales. Overall, box office receipts for all of 2012 should set a new record.
Looking ahead to 2013, Marsh sees a "solid" slate of new releases. "Our review of 2013 releases highlights sure winners like Iron Man 3, Star Trek 2, Man of Steel, Hunger Games 2 and Thor 2. However, the full year will also need to lean on some less surefire release like some long in the tooth sequels (Fast & Furious 6, Die Hard 5), a few unproven big budget sci-fi films (Pacific Rim, After Earth, Elysium) and crowded summer family slate (Monster University, Despicable Me 2, Turbo, Smurfs 2)." Marsh continued, "Our deep dive analysis of 2013 shows the year eking out a gain, but just 0.1 percent. The year starts off with an expected challenging Q1 (minus eight percent) offset by strong Q2 (plus six percent), a middling Q3 (minus two percent) and a solid Q4 (plus four percent)."
It is important to note that Regal went ex- a $1.00 per share special dividend today, which will be paid to shareholders of record as of December 11 on December 27.
But, even without the special dividend, Regal Entertainment Group pays a regular, quarterly dividend of $0.21 per share or $0.84 annually. While Marsh and the other analysts who have recently downgraded Regal to Neutral are not all that excited about growth prospects for 2013, they all expect 2013 to at least keep up with 2012 which was, after all, a record year for movie box office receipts.
In mid-afternoon trading, RGC is changing hands right around $14.50. Based on Marsh's estimate of 2013 earnings per share at $0.97, Regal will be able to easily cover its $0.84 dividend, if not raise it a penny or two. The last time I checked, an $0.84 dividend on a $14.50 share price was a 5.8 percent dividend yield.
Not bad. Not bad at all.
Investors looking for yield could do a lot worse than to take advantage of today's ex- special dividend decline to pick up some RGC shares. You are getting paid to wait for one of the new releases in 2013 to turn into an unexpected box office smash. It sure beats putting money in the bank.
Posted-In: Piper JaffrayLong Ideas News Dividends Downgrades Analyst Ratings Trading Ideas Best of Benzinga
View Comments and Join the Discussion!