Beware These Familiar Value Traps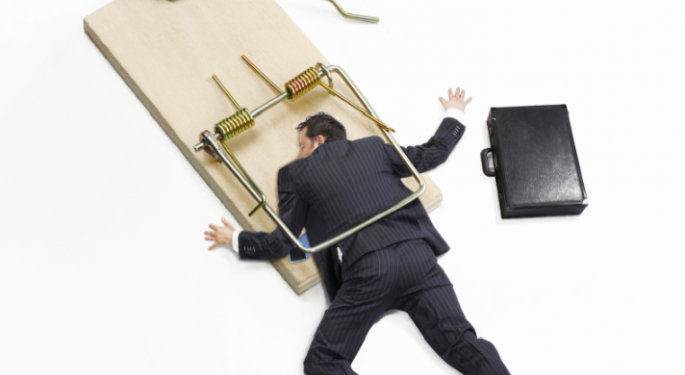 As many well know, one of the things that makes accomplished value investors accomplished is the ability to spot value traps. The good news for investors, even the non-professional variety, is that spotting value traps is not the tasking endeavor it appears to be.
Remembering that value traps do share something with legitimate value plays -– be it a low price-to-earnings ratio, a favorable price-to-book ratio or nice dividend yield -– is one step toward spotting potential value traps.
The next step is to consider broader, macro themes such as the sector in which the company operates or the markets it is primarily dependent on for revenue and profits. Of course, it also pays to remember that not all stocks with low price tags are "cheap."
With those concepts in mind, the following group stocks are constituents from a screen that included the following parameters: A forward P/E below 15, a price-to-book ratio of less than one, a price-to-free-cash flow ratio of less than 15 and a high debt-to-equity ratio.
Gafisa (NYSE: GFA) The Brazilian homebuilder is up nine percent year-to-date, but here is one clue that it is a value trap relative to U.S. equivalents: The iShares Dow Jones US Home Construction Fund (NYSE: ITB) has surged nearly 68 percent.
Gafisa trades for less than 13 times next year's earnings and with a price-to-book ratio of just 0.75, but there value trap indicators. Namely a long-term debt-to-equity ratio of 0.96. If that is not enough to convince some investors to shy away from this sub-$4.50 name, perhaps another factor will do the trick.
Brazilian equities look cheap relative to the broader emerging markets universe, but the alleged value has not translated to decent returns this year. Amid slowing growth and a challenging political environment, Brazilian stocks have been the worst performers in the BRIC quartet in 2012.
Rick's Cabaret (NASDAQ: RICK) The epitome of a sin stock, Rick's operates what it calls "upscale" adult nightclubs across the U.S. Simply put, Rick's is highly dependent on two forms of spending by (mostly) men: Discretionary and business. On both fronts, there is cause for concern.
Regarding the latter, a case can be made the U.S. economy is rebounding. Theoretically, that means more businessmen are taking clients out for nights on the town. To the point of discretionary spending, the Consumer Discretionary Select SPDR (NYSE: XLY) is almost 22 percent year-to-date. Green shoots for Rick's? Not really. The shares are off 6.6 percent this year.
Focusing on a sub-$8 price tag and a forward P/E of 5.3 would have lead investors to this value trap, which sports a long-term debt-to-equity ratio of 0.52.
Xerox (NYSE: XRX) It is not uncommon to see Xerox mentioned along with Hewlett-Packard (NYSE: HPQ) if for no other reason than that both are old, venerable information technology names that sell printers. The two share something else in common: The look of dead money value traps. Over the past five years, Xerox has plunged 58.4 percent, which only looks good next to HP's nearly 72 percent tumble.
Like HP, Xerox pays a dividend but is not a true dividend stock. And like HP, Xerox might want to give some consideration to eliminating its payout. Based on 1.27 billion shares currently outstanding, Xerox's annual dividend costs the company almost $216 million. Based on a long-term debt-to-equity ratio of 0.59, the company and its shareholders might be better off with a dividend suspension.
Posted-In: Long Ideas News Short Ideas Dividends Dividends Small Cap Analysis Financing After-Hours Center Best of Benzinga
View Comments and Join the Discussion!