Walter Rumors Doing Little to Help Coal ETF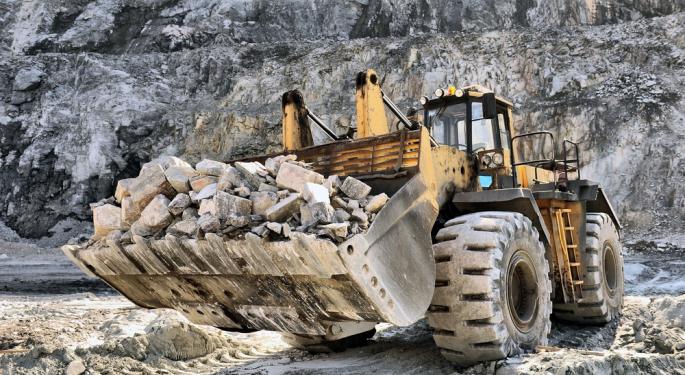 Shares of Walter Energy (NYSE: WLT), the Alabama-based maker of metallurgical coal, are up more than five percent today on volume that is well above the daily following press reports identifying the company as a takeover target.
Despite the fact that Walter is a top-10 holding in the Market Vectors Coal ETF (NYSE: KOL), KOL is not getting much of bounce on the takeover rumors. The ETF is higher by just 0.25 percent on volume that appears poised to be well below the daily average of 289,000 shares.
Indeed, it can be said that at just over three percent of KOL's weight, and as the ETF's tenth-largest holding, Walter alone cannot move KOL's needle. That is one way of viewing the situation and it is a fair perception.
There is more to the story. KOL and its constituents remain embattled. The ETF has plunged seven percent since November 7, the first trading day after President Obama was reelected. Coal bulls had been hoping for win by Republican challenger Mitt Romney. Obviously, that did not materialize and KOL has suffered as a result.
Additionally, there are Walter-specific issues to consider regarding why KOL is not jumping more today. Those go beyond Walter's relatively small weight in the ETF. First, there was a time when coal takeover rumors would have sent KOL soaring. A good example would be 2010. Even for part of 2011, KOL would have caught a nice one- or two-day bid on takeover rumors.
Times have changed for coal stocks and not in a good way. Walter is one of the poster children for that ominous change. Media reports say commodities giants Glencore (OTC: GLNCF) and BHP Billiton (NYSE: BHP) are interested in Walter. BHP Billiton, the world's largest mining company, is mulling a $55 per share offer for Walter, according to the Daily Mail.
An offer of $55 per share sounds great for a stock that currently trades just north of $33, but it is a far cry from previously rumored price tags for the company. Last year, the Times of London reported Anglo American (OTC: AAUKY) was mulling a $120-per-share offer for Walter. That would have valued Walter at $7.49 billion, or more than 3.5 times the company's current market value.
In another sign of just how far coal stocks have slid, in July 2011 hedge fund Audley Capital Advisors was pushing Walter management to sell the company. At the time, Audley said Walter was worth $240 a share.
Another possible reason why KOL has not caught fire on the back of the Walter rumors is the alleged involvement of BHP Billiton. Simply put, this is not new news. The Times reported last year that BHP was a possible suitor for Walter. Said another way, few rumors of large-scale mining and materials takeover activity do not involve BHP.
It is not hyperbole to say that nearly everyone that follows the materials sector knows that BHP CEO Marius Kloppers wants to get a big deal done, particularly after missing out on Rio Tinto (NYSE: RIO) and Potash Corp. (NYSE: POT) over the past several years.
The bottom line is Walter being a takeover is nothing new. The only thing that has changed is the price a potential acquirer would be willing to pay. Since that price is now well below what it would have been 16 months ago, investors should not expect much out of KOL on these rumors.
For more on ETFs, click here.
Posted-In: Long Ideas M&A News Sector ETFs Short Ideas Rumors Commodities Events Best of Benzinga
View Comments and Join the Discussion!