Benzinga's M&A Chatter for Wednesday December 5, 2012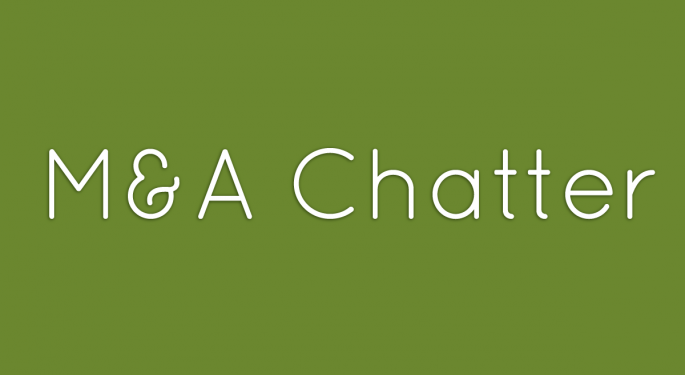 The following are the M&A deals, rumors and chatter circulating on Wall Street for Wednesday December 5, 2012:
Freeport-McMoRan to Acquire Plains Exploration and McMoRan Exploration in Deals Valued at $20B
The Deal:
Freeport-McMoRan Copper & Gold (NYSE: FCX), Plains Exploration & Production Company (NYSE: PXP) and McMoRan Exploration (NYSE: MMR) announced today that they have signed definitive merger agreements under which FCX will acquire PXP for approximately $6.9 billion in cash and stock and FCX will acquire MMR for approximately $3.4 billion in cash, or $2.1 billion net of 36 percent of the MMR interests currently owned by FCX and PXP. Upon closing, MMR shareholders will also receive a distribution of units in a royalty trust which will hold a 5 percent overriding royalty interest on future production in MMR's existing shallow water ultra-deep properties.
FCX has agreed to acquire MMR for per-share consideration consisting of $14.75 in cash and 1.15 units of a royalty trust, which will hold a 5 percent overriding royalty interest in future production from MMR's existing ultra-deep exploration properties.
FCX has agreed to acquire PXP for per-share consideration consisting of 0.6531 shares of FCX common stock and $25.00 in cash, equivalent to total consideration of $50.00 per PXP share, based on the closing price of FCX stock on December 4, 2012.
McMoRan Exploration closed at $15.67 Wednesday, a gain of 85% on 28 times average volume.
Plains Exploration closed at $44.50 Wednesday, a gain of 23% on 18 times average volume.
Tata May Raise Offer for Orient-Express Hotels by 10% to 15%
The Rumor:
Tata may raise its offer to acquire the remainder of Orient-Express Hotels (NYSE: OEH) by 10% to 15%, according to Times of India. That could bring Tata's offer to over $14 per share.
Tata's Indian Hotels offered $12.63 per share on November 18, to acquire the remainder of the OEH shares it did not already own. That offer was rejected by the Orient-Express Board on November 8.
Orient-Express Hotels closed at $11.97 Wednesday, a loss of 2% on twice average volume.
Supervalu May Sell Two Chains to Cerberus
The Rumor:
Supervalu (NYSE: SVU) is considering selling chains Albertsons and Save-A-Lot to Cerberus Capital Management, according to Bloomberg.
A Supervalu spokesperson reiterated the company's strategic review process was ongoing and there was active dialogue with several potential buyers. Those buyers are believed to include Cerberus and KKR (NYSE: KKR). The company announced the strategic review on July 12, 2012.
Supervalu closed at $2.90 Wednesday, a gain of almost 14% on 3 times average volume.
Starz May be Acquired After Spinoff from Liberty Media
The Rumor:
Shares of Liberty Media (NASDAQ: LMCA) surged higher Wednesday on a report from WSJ that the company's Starz movie network might attract potential buyers following a spinoff next month.
The news followed a selloff of Liberty Media shares Tuesday on news the company would not extend its deal with Disney (NYSE: DIS) and would lose the rights to Netflix (NASDAQ: NFLX).
A spokesperson for Liberty Media was not available for comment,
Liberty Media closed off the highs at $106.40 on Wednesday, a gain of $0.84 on almost 5 times average volume.
Starbucks Expects to Purchase Teavana This Year
The Deal:
Starbucks (NASDAQ: SBUX) confirmed it plans to go ahead with its acquisition of Teavana (NYSE: TEA), in spite of a negative report on November 20 from short-seller Glaucus Research. The report said there was pesticide in the company's teas. Teavana denied the charges in the report.
Starbucks agreed to buy Teavana for $15.50 per share in cash.
Teavana Holdings closed at $15.41 Wednesday, a gain of 7% on 4.5 times average volume.
Group Led by Former CEO Lowers Offer for Kit Digital
The Deal:
A group led by former KIT Digital Chairman and CEO Kaleil Isaza Tuzman lowered the acquisition offer for his former company in a letter to the Kit Digital Board of Directors on Wednesday, to a range of $1.35 to $1.70 per share. The offer is based on the current price of KITD stock, compounded by the Company's strategic drift and worsening liquidity and capital structure issues. Tuzman's group had offered $3.75 per share for KIT Digital on November 23.
In the absence of a response to the offer by 5 PM ET on Wednesday, December 12, 2012, that generates demonstrable progress towards a transaction, the group will evaluate other options available.
Kit Digital closed at $0.74 Wednesday, a gain of 3% on 4.5 times average volume.
Posted-In: Long Ideas M&A News Short Ideas Rumors Global After-Hours Center Movers
View Comments and Join the Discussion!