One Semiconductor Stock That Could Benefit from Apple's Next iPad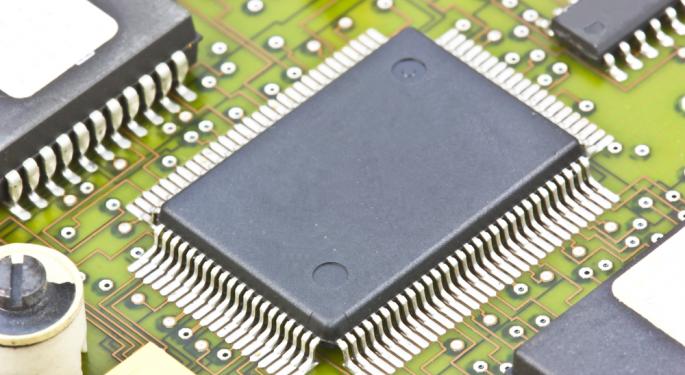 Taiwan Semiconductor Manufacturing (NYSE: TSM) is gearing up to produce of microprocessors for Apple's (Nasdaq: AAPL) next generation of iPads starting in 2013.
Apple currently buys all of its CPUs from Samsung Electronics but has decided to diversify its suppliers. Most companies procure key components, such as CPUs, from several different companies to spread the risk of a supply disruption in the event of a fire, earthquake or some other disaster. Apple is further motivated to diversify away from Samsung since the two companies compete in the smartphone market and are fighting a copyright battle in the courts.
TSMC is the world's largest semiconductor foundry, manufacturing chips for a wide range of customers. The company's business model calls for it to remain independent, serving a broad customer base to avoid being overly dependent upon a single customer.
TSMC provides manufacturing services to fabless chip designers including Qualcomm (Nasdaq: QCOM), Advanced Micro Devices (Nasdaq: AMD) and Nvidia (Nasdaq: NVDA). In addition, integrated device manufacturers, such as Intel (Nasdaq: INTC) subcontract some of their own manufacturing to TSMC.
Last summer, after TSMC chairman Morris Chang said that he was open to dedicating a fab to a single customer, both Apple and Qualcomm separately approached TSMC seeking to invest more than $1 billion in the company in order to secure exclusive access to TSMC chips for mobile devices. Chang turned down both suitors "TSMC wants to retain control of its plants, doesn't want to sell part of itself and doesn't need cash for investments," TSMC CFO Lora Ho told Bloomberg in a July 19 interview.
The Bloomberg article continued, "Apple and Qualcomm are trying to improve their position in a supply chain where a shrinking number of companies are capable of churning out the millions of parts needed to meet surging smartphone demand…While TSMC is Qualcomm's biggest supplier, according to data compiled by Bloomberg, it has been successful because it has worked with multiple customers. Dedicating one facility to a single product or customer creates the risk of a fabrication plant becoming a burden if the product, client or technology changes, said Ho."
On October 12, China Economic News Service reported that Apple was going to make TSMC its exclusive supplier of 20 nanometer design rule, quad-core processors for the next generation of iPads, iTVs and possibly Macbooks. iPhones are expected to continue to use Samsung's dual-core processors because they consume less power, China Economic News Service said.
"Citigroup Global Markets' market research fellow, J.T. Hsu, pointed out that Apple began verifying TSMC's 20nm process in August this year and may begin risk production in November with the process," China Economic News Service said. "Volume production is expected to start in the fourth quarter of 2013, raising the possibility that TSMC will hike capital expenditure to US$11-12 billion in 2013 and 2014."
Apple's move away from Samsung to TSMC shook the Apple world when it was announced.
Now, DigiTimes reports that the semiconductor industry is concerned that TSMC's orders from Apple will crowd them out of the company's most advanced production facilities.
"Demand from Apple is expected to be huge, said the observers, adding that allocation of TSMC's available advanced process capacity among its major clients will be a critical decision to be made by the foundry," DigiTimes wrote. "…While being capable of providing sufficient capacity to Apple, TSMC also does not want to upset its existing major clients, the observers noted. Allocating efficiently its production capacity will be a focus for the foundry in 2013, the observers believe…TSMC will need at least more than 200,000 12-inch wafers ready to satisfy the huge demand from Apple, the observers said."
Apple's orders are expected to impact TSMC's sales and earnings in 2013, a year earlier than most analysts were thinking.
The TSMC ADR is trading at the highest level since the bursting of the technology bubble back in 2000. In February 2000, the ADR price peaked at 22.52. After bottoming at 5.84 in November 2008, the shares have been in a solid uptrend through 2011 and 2012 and are trading at a 12-year high.
Given the positive outlook for orders from its newest customer, Apple, and continued demand from the company's existing customers, investors might do well to buy TSMC ADRs on any pullback below 16.
Posted-In: Long Ideas News Global Tech Trading Ideas Best of Benzinga
View Comments and Join the Discussion!