ETFs For Cyber Monday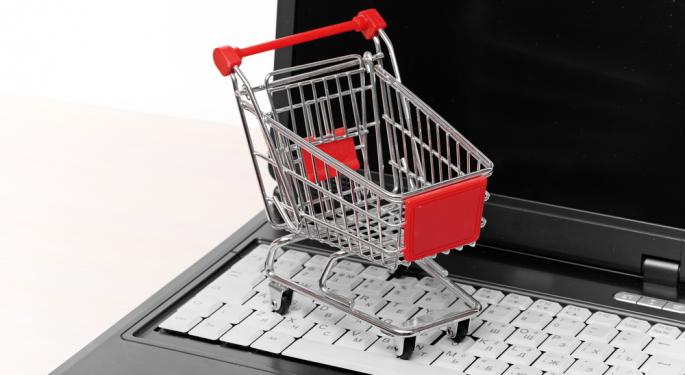 Its relevance in question, one thing that is not debatable about Cyber Monday is rising sales. Shoppers are expected to spend $1.5 billion today as they visit various e-commerce web sites, a 20 percent increase from last year's levels, according to research firm comScore.
Cyber Monday is one more opportunity for retailers to extend the gains from the Thanksgiving weekend. This year, spending for the four days starting November 22 in stores and online reached $59.1 billion, according to National Retail Federation.
To be sure, Internet retail sales, regardless of the time of year, are rising. Internet sales will grow 17 percent from a year earlier and make up more than 10 percent of U.S. retail spending, Bloomberg reported, citing comScore.
In other words, Cyber Monday may just be a near-term catalyst to lift the fortunes of the following ETFs that are heavy on discretionary and retail names.
First Trust Dow Jones Internet Index Fund (NYSE: FDN) With about 14 percent of its combined weight devoted to e-commerce pioneers Amazon (NASDAQ: AMZN) and eBay (NASDAQ: EBAY), the First Trust Dow Jones Internet Index Fund makes for an obvious Cyber Monday play. Apparently, traders realize as much as FDN is trading higher in midday trading as the broader market slumps.
There is more to FDN's Cyber Monday story beyond Amazon and eBay. FDN, the oldest and largest ETF devoted to the Internet sub-sector, is also the largest ETF that Facebook (NASDAQ: FB) calls home. Retailers, and other companies for that matter, are increasingly using social media to attract new customers. Cyber Monday is a perfect example of that trend as plenty of recognizable firms are offering deals direct from their Facebook pages.
PowerShares NASDAQ Internet Portfolio (NASDAQ: PNQI) In the case of the $49.2 million PowerShares NASDAQ Internet Portfolio, this ETF devotes about 16 percent of its weight to Amazon and eBay. With Priceline (NASDAQ: PCLN) accounting for 8.6 of its weight and travel-related names combining for over 13 percent of the ETF's weight, PNQI could get a lift if some of that Cyber Monday went to plane tickets and hotel reservations.
Beyond that, the ETF offers some exposure to names such as Blue Nile (NASDAQ: NILE) and Groupon (NASDAQ: GRPN), which further validates this unheralded fund as a valid Cyber Monday play.
Market Vectors Retail ETF (NYSE: RTH) The Market Vectors Retail ETF may not be exclusively devoted to Internet stocks, but this ETF may prove to be the best Cyber Monday play of all. On the surface, some investors may see an almost 9.5 percent allocation to Amazon as RTH's only legitimate Internet exposure. However, further inspection is required.
Wal-Mart (NYSE: WMT), Target (NYSE: TGT) and Costco (NASDAQ: COST) are known for their brick-and-mortar stores, but all three are now major e-commerce players. That trio accounts for over 23 percent of RTH's weight.
RTH is small with just 26 holdings, but the good news is the ETF's more speculative fare such as Best Buy (NYSE: BBY) and J.C. Penney (NYSE: JCP) account for small percentages of the fund's overall weight.
For more on ETFs, click here.
Posted-In: Long Ideas News Sector ETFs Short Ideas Retail Sales Events Intraday Update Markets Best of Benzinga
View Comments and Join the Discussion!