Regional Woes Could Finally Impact Egypt ETF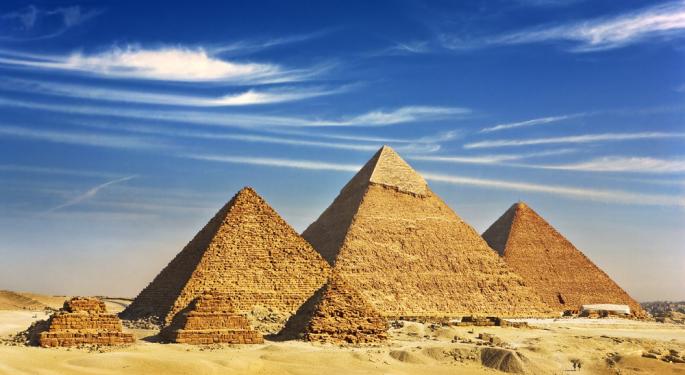 With a year-to-date gain of 51.3 percent, the Market Vectors Egypt ETF (NYSE: EGPT) is one of the best-performing non-leveraged ETFs of any stripe. For most of this year, the lone ETF exclusively devoted to the North African nation has been surprisingly resilient in the face of regional turmoil.
EGPT has been so solid that the ETF actually rallied on September 11, the day protesters stormed the U.S. embassy in Cairo. The fund's resilience is being put to the test tensions escalate in Egypt over Israel's latest offensive against the militant group Hamas in the Gaza Strip.
Amid concerns the Egyptian government is erroneously legal action against some of the country's biggest companies and EGPT's marquee constituents, the fund has tumbled 7.1 percent in the past month. EGPT has dropped 1.3 percent in the past week as Egyptians have criticized President Mohamed Mursi for not taking a harder line against Israel for the Gaza attacks.
Egypt and Israel share a fragile peace accord, but this latest spate of regional strife could be a near-term blow EGPT's fortunes. The ETF's run higher, which took the fund from just over $10 in July to nearly $16 in early October, seemed to defy convention as outsiders remained pensive about the Egyptian economy. With good reason, unemployment is well into the double-digits, but joblessness among the nations young people is even higher at nearly 25 percent.
Further adverse interference by the Morsi administration could impact foreign direct investment and plague Egypt's domestically-focused economy, one that is already suffering from dwindling foreign reserves and a rising fiscal deficit.
Over the weekend, Egyptian equities endured their worst performance in four months. Commercial International Bank Egypt, the country's biggest lender, slid to its lowest levels in two weeks, Bloomberg reported.
That is significant for two reasons. First, the stock is EGPT's largest holding with a weight of almost 9.5 percent. Second, the fund devotes 44.5 percent of its weight to financial services names.
There is speculation Israel and Hamas could reach a ceasefire in the coming days, which could lead to quick pop in EGPT and other ETFs with exposure to the region such as the PowerShares MENA Frontier Countries Portfolio (NASDAQ: PMNA).
EGPT needs it. The ETF's recent slide has taken the fund below its 50-day moving average and a look at the chart shows EGPT could fall another eight percent to 10 percent before finding next support.
Interestingly, EGPT has been sending signals that all is not well. Two months ago, the ETF had over $61 million in assets under management, but the fund will start trading today with $51.6 million, Market Vectors data. That may not sound like a large amount of inflows, but it is significant on a percentage basis for an ETF of EGPT's still diminutive stature.
For more on Egypt and ETF's, click here.
Posted-In: Long Ideas News Short Ideas Emerging Market ETFs Technicals Politics Events Global Best of Benzinga
View Comments and Join the Discussion!