The Best Stocks For America's Coming Energy Independence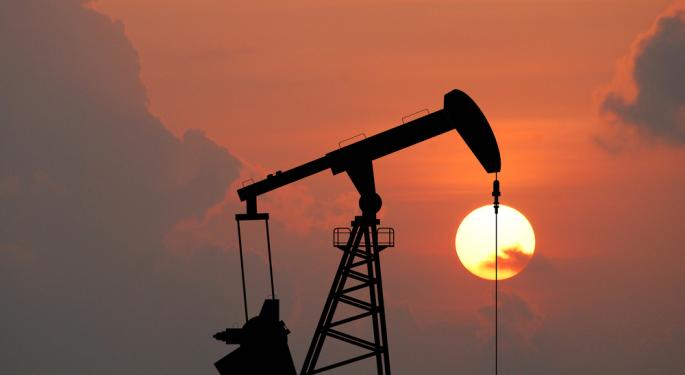 The energy sector is rarely bereft of market-moving headlines, but Monday represents a special case. News that the U.S. could surpass Saudi Arabia and Russia as the world's largest oil producer is permeating markets. A report by the International Energy Association said "North America is at the forefront of a sweeping transformation in oil and gas production that will affect all regions of the world."
Long beholden to foreign oil supplies, many of which come from regions of the world that are less than friendly to Western interests, the U.S. has made strides in breaking its dependence on crude imports. Due to technological improvements and rising reserve estimates at various shale formations, U.S. oil production has surged since 2008.
The result of increased domestic exploration and production is palpable. The IEA now sees the U.S. as becoming energy self-sufficient by 2035 and a net oil exporter in the same year. This country's status as a net exporter of natural gas could be cemented as soon as 2020, the IEA said.
How U.S. energy independence affects oil equities remains to be seen. A perfect scenario would be that the U.S. really does become a net oil exporter and that global demand for crude increases, driving prices (and profits) higher. Assuming the best-case scenario, the following are just a few of the stocks investors will want to become acquainted with:
EOG Resources (NYSE: EOG) There are some issues to consider with EOG, particularly for long-term investors. For starters, the shares only yield 0.6 percent, which is paltry in comparison to what larger integrated oil names offer. Second, some analysts view the stock as richly valued compared to other U.S. oil and gas independents.
EOG's recent price action implies investors can afford to be patient and wait for better pricing to avail itself. A bull case for this stock is also clear: The company is the largest producer in the Eagle Ford Shale. EOG had over 2 billion in proven reserves at the end of last year and the company has consistently raised its estimates for what it can extract from Eagle Ford. Today that number is more than 1.5 billion barrels. Noteworthy is the fact that EOG's five-year revenue growth of almost 21 percent is tops among independent oil and gas producers.
With those factors in mind, EOG is solid a long-term bet and a potential acquisition target.
Occidental Petroleum (NYSE: OXY) Occidental, the fourth-largest U.S. oil company by market value, announced earlier this year it would reduce its Bakken Shale footprint due to high operating costs. However, the California-based company emphasized Bakken is still part of its long-term plans. Additionally, it should be noted Occidental said it would shift resources out of the Bakken to other U.S. shale plays, such as the Monterey Shale and the Permian Basin in West Texas and New Mexico.
As is the case with most oil equities, there are risks that must be acknowledged with Occidental. First, while the company does not drill offshore, it does operate in some politically volatile places, including Libya. Second, the company is the dominant producer in the Monterey Shale, but California has been slow to approve new drilling permits there. That could weight on Occidental's output numbers over the medium-term.
On the bright side, Occidental does compensate investors for their patience. The dividend has more than quadrupled since 2003.
Whiting Petroleum (NYSE: WLL) Two months ago, takeover rumors surrounding Whiting swirled after it was reported the company hired Bank of America to explore a possible sale. Those rumors gained steam again last week and it is easy to see why.
Not only does Whiting control over 700,000 Bakken Shale acres, making it the second-largest producer there, it is attractively valued. The shares currently trade for more than 35 percent below the average analyst price target and well below the five-year average price-to-earnings ratio.
Adding to the takeover case are the facts that the bulk of Whiting's reserves are oil, not gas, and that the company has increased production guidance multiple times this year.
Posted-In: Long Ideas News Short Ideas Dividends Dividends Rumors Futures Commodities Best of Benzinga
View Comments and Join the Discussion!