Labor Unrest Could Hit South Africa ETFs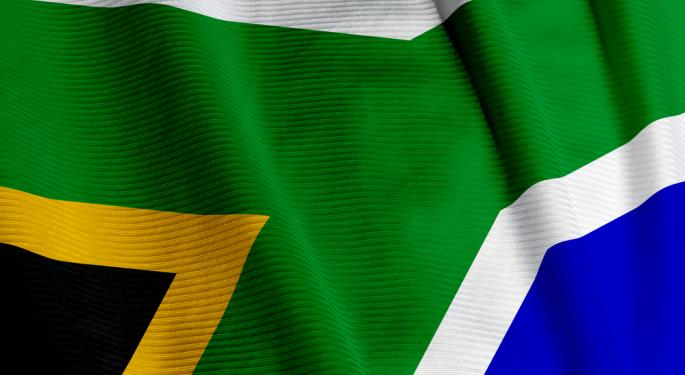 Ongoing labor strife in South Africa could continue to plague the country's currency, the rand, and ETFs such as the iShares MSCI South Africa Index Fund (NYSE: EZA), which have heavy exposure to the country's mining industry.
Strikes in the country's mining and transportation industries are affecting other areas of Africa's largest economy, Bloomberg reported, pressuring the high-beta rand in the process.
Last week, the WisdomTree Dreyfus South African Rand Fund (NYSE: SZR) slid almost five percent. In the spot market, the rand slid 5.3 percent, prompting a blowout for yields on South African sovereign debt. Yields on benchmark 6.75 percent bonds due March 2021 climbed 25 basis points (0.25 percentage points), the most since Nov. 11, 2010, to 6.98 percent in Monday's session, Bloomberg reported.
SZR, which has just over $4.5 million in assets under management, has average daily turnover of just 622 shares, but volume on Friday was nearly six times that amount as traders fretted over the strength over the commodity currency.
The ETFS Physical Platinum Shares (NYSE: PPLT) and the ETFS Physical Palladium Shares (NYSE: PALL) have surged since mid-August due to labor strife at South African mines. South Africa is one of the world's largest producers of gold, palladium and platinum. Due to the country's abundance of precious metals resources, the rand is often viewed as commodity currency, implying a higher level of volatility than what is seen with currencies such as the U.S. dollar or Japanese yen.
While decreased production of precious metals can be a boon for spot prices and ETFs backed by physical holdings such as PALL and PPLT, lost production can have the opposite impact on country ETFs. For example, the iShares MSCI South Africa Index Fund has plunged 5.3 percent in the past five trading days. EZA, which has almost $494 million in AUM, is off nearly 6.5 percent in the past month.
The ETF devotes 18.3 percent of its weight to materials names, making the group the second-largest sector weight in the fund behind financials.
South African banks are far from immune from the strikes. Last week, Moody's Investors Service pared its rating on the foreign deposit ratings of the five largest banks in South Africa. In September, the ratings agency cut South Africa's sovereign debt rating to Baa1 from A3. Financials account for almost 26 percent of EZA's weight.
Even before the strikes, the rand and SZR were struggling due to South African political volatility and an unemployment rate that is north of 20 percent.
For more on emerging markets currency ETFs, click here.
Posted-In: Long Ideas News Short Ideas Emerging Market ETFs Futures Commodities Currency ETFs Forex Best of Benzinga
View Comments and Join the Discussion!