Retail Collapse: Best Buy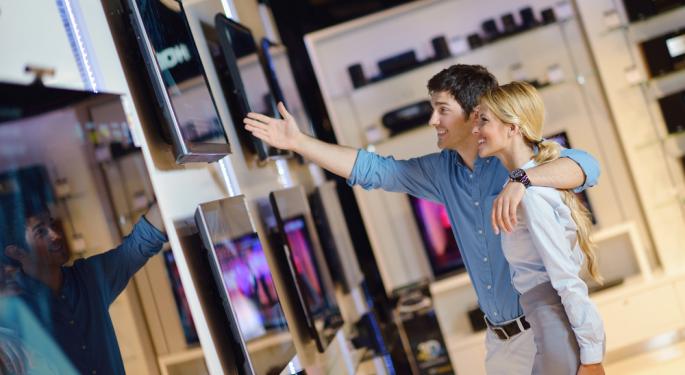 With big box retail being challenged by the Internet, some venerable brands could disappear, maybe even as soon as next year. These stores –-- once unparalleled success stories –-- could be forced out of existence. Maintaining large stores can be costly, and in many ways they simply serve as showrooms for their online competitors.
Over the next few months, Benzinga is going to look at some of these failing retail chains and examine whether they have any chance to survive in the long-term.
Best Buy
What's the problem?: Best Buy (NYSE: BBY) has enormous stores in premium locations. Consequently, the company must pay huge leases and maintain a large staff. The chain, which looked poised for success when rival Circuit City went bankrupt, (as did a number of regional competitors) has instead been beset by the same problems that brought down its rivals.
The electronics retailer has seen its business deteriorate on a number of fronts. First, online competition – mainly from Amazon.com – has driven down prices on high-end electronics. An even mildly savvy customer can visit a Best Buy, check out an expensive TV or other item –- all the while wasting the time of a salesman --– then proceed to buy it online at the lowest possible price.
Best Buy has also been hurt by the rapid decline of the physical CD and DVD business. This part of the business, which was part of the justification for having huge stores, has essentially disappeared as customers now largely purchase music and video media online.
In addition, Best Buy has also surrendered its "it" factor. When Best Buy was a new chain, it was hipper than its rivals. Now, however, Best Buy has not evolved and the stores feel dated – giant warehouses filled mostly with indifferent staff and a lot of product, but not a lot of energy.
Can it be fixed?: Current management, as well as founder Richard Schulze (currently attempting to buy the company and take it private), think so. Best Buy does have some positives, as its Geek Squad service is something Amazon can't compete with. The company also has confidence that smaller Best Buy Mobile stores will be a key part of a revival.
Best Buy also has the advantage of being the only national player remaining in the electronics space. Yes, the company faces competition from Target, Wal-Mart, Sears and other big boxes. But, those stores are devoting less space to electronics and they do not make any effort to have their staff be seen as experts – something Best Buy could easily do, especially if it leverages the Geek Squad brand.
What's the stock play: Obviously, if you believe Best Buy will complete a successful turnaround (or that Schulze will take it private at a higher price than it currently trades at) you can buy Best Buy (NYSE: BBY). If, however, you believe Best Buy will go the way of Circuit City, then the obvious play is Amazon (NASDAQ: AMZN). Yet, Amazon is so large that it's unlikely to see a rally from the death of Best Buy -- many may have already priced this factor into the shares.
Instead, Best Buy's demise may actually benefit another beleaguered electronics dealer. Radio Shack (NYSE: RSH) -– whose own survival is in doubt –- would likely pick up a decent amount of Best Buy's cell phone business. Radio Shack would also add sales in cables, wires and other accessories that customers will overpay for when they already have the TV or computer ready to go. In addition, if Radio Shack is nimble enough to grab the niche quickly, the company would be well-positioned to add a Geek Squad style service.
Will it survive 2013?: Probably. Best Buy needs to make its stores destinations --amp up the fun, excitement and product knowledge of its staff. The company also needs to shrink its square footage as leases expire. Perhaps the biggest challenge for the chain is finding the pricing sweet spot, that point where customers will be willing to pay a little more despite lower prices online.
If Best Buy exists in 2014, it likely won't look like it does now. CDs, DVDs and even video games will get a fraction of the shelf space they currently occupy and stores will be smaller in general. In addition, services offered through Geek Squad will be integrated throughout the whole store rather than relegated to a single desk.
Posted-In: Long Ideas Short Ideas Trading Ideas General Best of Benzinga
View Comments and Join the Discussion!