Pershing Square's Bill Ackman Discusses J.C. Penney and General Growth Properties at Value Investing Congress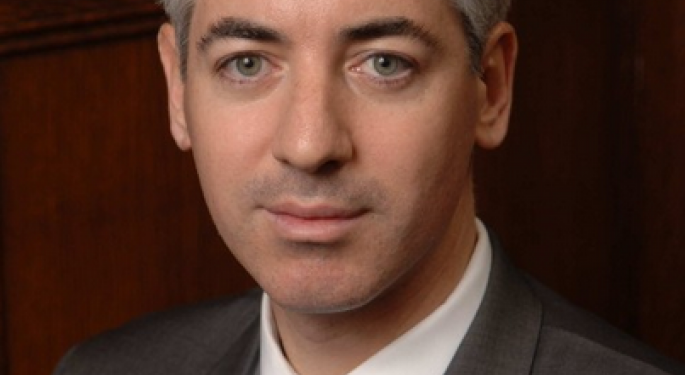 On Monday, the 8th annual New York Value Investing Congress kicked off to considerable fanfare. As investors pitched investment ideas, a number of stocks saw elevated activity such as Netflix (NASDAQ: NFLX), Agrium (NYSE: AGU), and Howard Hughes Corp. (NYSE: HHC).
Monday's most notable speaker was Pershing Square Capital Management's Bill Ackman, who presented at the conference after the markets closed. Ackman is an activist investor known for running a highly concentrated portfolio where he places big bets on companies.
He is not an active trader and is willing to hold his positions for a long time if he believes the market is not realizing a company's intrinsic value. For this reason, it was not surprising that Ackman used his time to discuss a couple of stocks he has held for years.
The first name that he talked about was General Growth Properties (NYSE: GGP), which Pershing Square has made an absolute fortune off of since establishing the position below $2.00 when the company was in bankruptcy. Today, the stock is trading at $19.00. Ackman said that he thinks GGP can trade as high as $31.00 within five years, but that he would prefer to see some sort of transaction take place with the company.
He has previously argued that General Growth should auction itself off in order to avoid a takeover at the hands of Brookfield Asset Management (NYSE: BAM), which he does not think will pay full price for the company. "We usually don't push for sales of companies," he said at the conference. "The problem is Brookfield is working very hard to get control of the company without paying a premium…If we don't do a transaction the shareholders will forever lose the possibility to earn a premium."
Ackman's idea is for GGP to merge with Simon Property Group (NYSE: SPG). He thinks that General Growth may be worth $24.00 to Simon right now and that at the end of the year GGP shareholders could realize a $29 per share price on their investment as the shares of the merged company would likely rise further. "Simon's stock will rise on the transaction," he said.
Ackman also once again touted J.C. Penney (NYSE: JCP), which has been a difficult investment thus far for Pershing Square. The retailer's shares have fallen 30 percent in 2012 and currently trade at $24.38. Ackman said that his cost basis in the stock is around $25.00. He began building the position in 2010.
At the Value Investing Congress on Monday, he said "we like JC Penney. it's the General Growth of the retail industry. There's enormous skepticism. The CEO is doing the right thing on a 5 or 10 year basis for the company." In the near-term, however, Johnson's vision for the company has manifested itself in rocky operating results as J.C. Penney completely overhauled its promotional strategy, alienating some customers.
The company is also embarking on a strategy to create "stores within stores" where certain brands are showcased. He noted, however, that the newer parts of the J.C. Penney experience make the older aspects look bad. He said, "The [new] shops kind of make the rest of the shop look bad." In touching on the considerable hiccups that have accompanied the retailers new promotional strategy under Johnson, Ackman said that "The bad news is we lost 20% of the customers in the first half of the year. The good news is we kept 80%."
The Pershing Square manager also had some comments about Proctor & Gamble (NYSE: PG) during his time at the podium at the conference. This should not come as a surprise, as Ackman's hedge fund recently purchased a massive stake in the consumer products company valued at around $2 billion. He said that P&G is "one of the great companies."
He also talked a little bit about the potential for activism at Proctor & Gamble, despite the fact that his stake amounts to only around 1 percent of the company. He suggested that P&G could recruit a new CEO from outside of the company in order to boost operating results. Previously, Ackman has been critical of CEO Robert McDonald. PG shares have risen a little better than 4 percent in 2012.
Posted-In: Bill Ackman Pershing Square Capital Management Value Investing CongressLong Ideas Hedge Funds Trading Ideas General Best of Benzinga
View Comments and Join the Discussion!